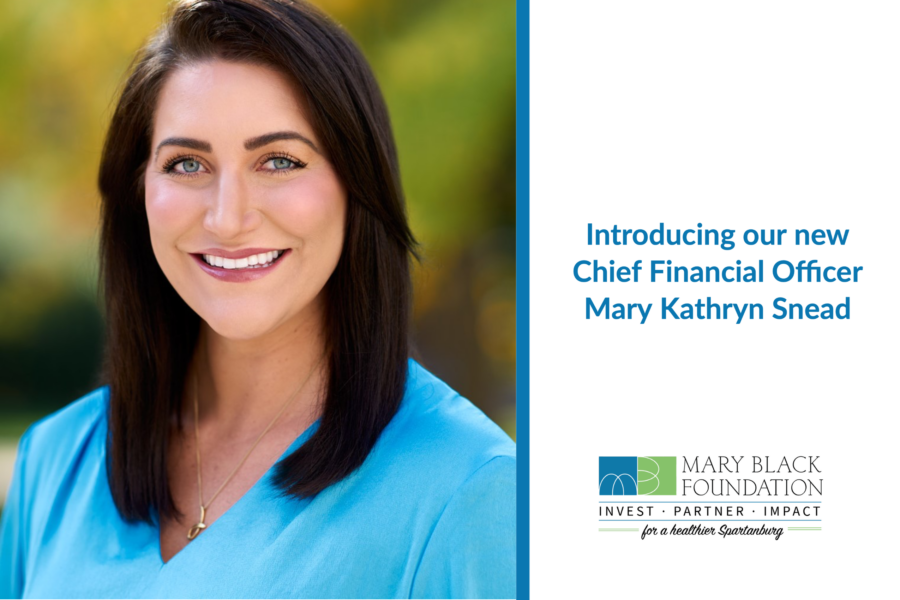 We are excited to welcome Mary Kathryn Snead to the Mary Black Foundation team!

Mary Kathryn has been named the Chief Financial Officer. Prior to joining the Mary Black Foundation, Mary Kathryn was the Vice President of Finance & Mission Support for OneSpartanburg, Inc. In that role, she served as the chief financial staffer for OneSpartanburg, Inc., and helped build a consolidated model for business, economic, and tourism development with the 2021 ACCE National Chamber of the Year. Mary Kathryn has a B.S. in Accounting from Converse College.

Mary Kathryn is actively involved in the community and has recently served on the board of directors for PAL: Play. Advocate. Live Well., Hope Center for Children, and Converse University's Board of Visitors. She has completed the United Way of the Piedmont's Non-Profit Fellows Program, Leadership Spartanburg, and Institute for Organization Management.

In her role at the Foundation, Mary Kathryn will be responsible for directing financial, accounting, and investment activities. Mary Kathryn joined the Foundation on November 28, 2022. To reach her, contact mksnead@maryblackfoundation.org.