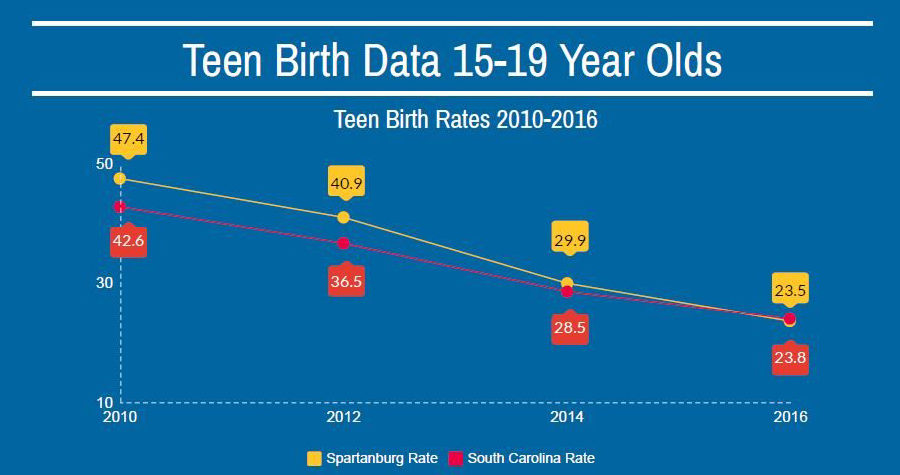 In July, Spartanburg received good news and bad news as it relates to its ongoing efforts to reduce teen pregnancy.  The good news: the recently released 2016 teen birth data showed another decrease in Spartanburg County's rates, showing that our efforts are proving successful, but the bad news: federal funding that has supported our work since 2010 was cut due to a shift in the administration's priorities.  While this cut in funding is a significant blow to our local efforts, Spartanburg's commitment to reducing teen pregnancy will not end and our collaborative spirit will find ways to continue much of the work.  The Foundation's Board Chair, Jack McBride, shared his thoughts on the teen pregnancy prevention initiative in the
Herald Journal's opinion section
and his remarks are included below.
As the CEO of Contec, I am involved in many community efforts. In my role as board chair of the Mary Black Foundation, I have been proud to be involved in health- and wellness-related initiatives such as the Healthy Schools Initiative, the Way to Wellville and the recent expansion of Triple P parenting programs.
One of the foundation's earliest investments was in teen pregnancy prevention after it was identified as a critical community indicator by the Mary Black Foundation, the Spartanburg County Foundation, the Spartanburg Regional Foundation and United Way of the Piedmont.
Preventing teen childbearing is a priority community indicator because it is a double whammy that affects many areas of community well-being and has a residual effect lasting well into the future. Babies born to teen mothers are more likely to have low birthweight and are at greater risk for illness and developmental delays.
In addition, children of teen parents suffer higher rates of abuse and neglect than children of mothers who delayed childbearing. Children born to teens are at high risk of living in poverty, which then contributes to the cycle of poverty.
Care for both mother and child is publically funded through various state and federal assistance programs. In 2010, the annual cost of teen childbearing was estimated at $166 million for South Carolina taxpayers. Future costs of these children are not built into this number.
Because of Spartanburg's dismal data, we received federal grants to assist our efforts in 2010, and then again in 2015. In 2010, Spartanburg County had a teen birth incident rate of 47.4 per 1,000 girls, ages 15-19. This was higher than the both the South Carolina rate (42.6) and the national rate (34.3).
Even more alarming were disparities among white and black youths and geographic areas. For example, black females living in three ZIP codes in Spartanburg experienced a teen birthrate of 72.8 per 1,000 girls, ages 15-19, compared to 68.7 countywide and 58.3 in South Carolina.
Spartanburg clearly had a problem, but it also had community leaders' attention and the financial resources to do something about it. The federal grants we received funded collaborative efforts, enabling school programs, community-based organizations, social service agencies and health care providers to work together, especially in those three problematic ZIP codes.
Programs were designed to meet the unique and age-appropriate needs of youths throughout adolescence, including after-school and summer programs for teens, mentoring, and referrals for individual services. The Mary Black Foundation took the lead in convening more than 30 local partners and developed an online resource and referral network called Connect for positive youth outcomes.
We are very disappointed that the funding stream has been cut two years early because we know the impact on the lives of thousands of youths who have been served. While some question the effectiveness of what we have been doing in Spartanburg, we point to the data reported by SC DHEC:
• In 2015, for the first time in history, Spartanburg's teen birthrate fell below the South Carolina rate. From 2010 to 2016, the teen birthrate in Spartanburg County decreased from 47.4 to 23.5, with a 50 percent rate of decline (for all 15- to 19-year-olds) compared to the South Carolina rate of 43 percent.
• The disparity between teen births among black and white females in Spartanburg County in 2016 was eliminated: 23.9 per 1,000 white 15- to 19-year-olds and 23.3 per 1,000 black 15- to 19-year-olds; while a disparity in the South Carolina rates continue: 21.9 for white females and 28.2 for black females.
• The teen birthrate among black females in the three targeted ZIP codes has declined from 72.8 in 2010 to 24.7 in 2016, a 66 percent decline.
I have personally seen the positive impact these programs have on educational attainment, workforce development and quality of life. More importantly, as a businessman, I recognize the tremendous return on investment that federal funding combined with amazing local collaboration can have both immediately and in the long term.
Reducing teen pregnancy allows our youths to focus on their future aspirations and empowers them to become better potential employees for companies such as Contec, and a stronger workforce results in a stronger community for everyone.
Jack McBride is board chairman of the Mary Black Foundation.