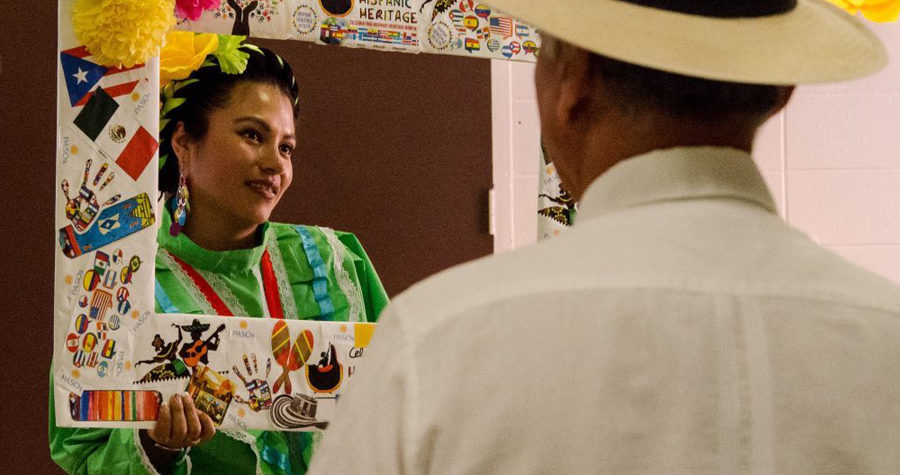 This week's blog is written by Nora Curiel-Munoz, Spartanburg County PASOs Coordinator at Upstate Family Resource Center
Each year, the US observes the Hispanic Heritage Month from September 15 to October 15, by celebrating the histories, cultures and contributions from people who came from Spain, Mexico, the Caribbean and Central and South America.
To mark Hispanic Heritage Month, PASOs Spartanburg hosted the Hispanic Heritage Celebration on October 12th at the Upstate Family Resource Center in Boiling Springs. To make this beautiful event possible: Amida Thomas, my right hand; our wonderful staff; many volunteers, and donors worked hard for weeks. The response was amazing! All of the delicious meals and setting were donated from generous businesses and our PASOs participants.
More than one hundred attended the celebration from across our community and representing numerous organizations. During the event, we displayed authentic handcrafts and other objects that represent the way we live, showing part of our culture. As well, we had the opportunity to perform folkloric dances from Mexico, Colombia and Paraguay.
We also had the opportunity to share with everybody the work we have done since beginning in Spartanburg. We recognized two very special women who work hard to bring wellness to many Latino families. Bertha Hernandez who has been an asset for our organization and Guadalupe Chavez, a volunteer who has connected many people in need with our organization.
We could not pass the opportunity to recognize very important organizations. In first place, we recognized our founders, Mary Black Foundation, because they believed in us. Our growth and success are because of their generous support. So sincerely from the bottom of our hearts, thank you for making it possible! Moreover, we are not done yet; there is still work to be done.
As well, we showed our sincere appreciation to the three partner organizations that gave us the most support during this last year, ReGenesis Health Care, Family Connections, and Access Health. They have been wonderful providing services to our participants, and we are looking forward to continuing our work as a big team.
I think most of the attendees enjoyed the event as much as I did, and now I am seeing my community in a different way. It was an amazing experience and a big sense of unity.
I will finish with this quote by Tlali Lebitsa: "Motivation comes from the heart, ideas come from the brain, and achievement and success come from hard working hands". Let's keep all working together for a stronger community.