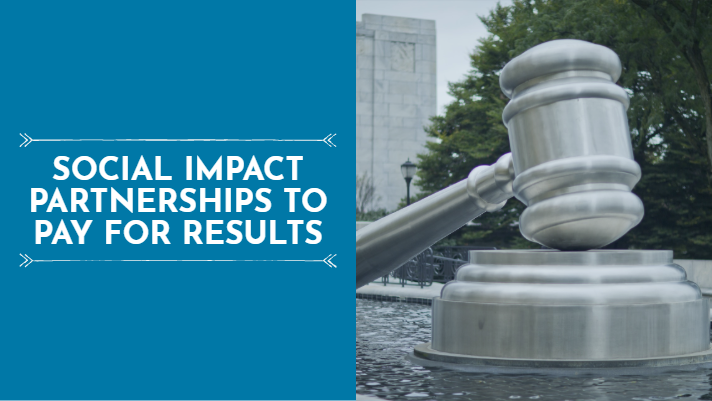 Social Impact Partnerships to Pay for Results
This week's blog is written by Megan Carolan, Director of Policy Research, Institute for Child Success
In late May, jurisdictions across the country submitted applications to support Pay for Success (PFS) projects under the federal Social Impact Partnerships to Pay for Results Act (SIPPRA). When this funding opportunity was
first announced
last year, it was the culmination of several years of advocacy by ICS and others in the field to usher in a new era for outcomes-based funding, including payment for outcomes themselves.
SIPPRA Funding
This is only the first wave of funding under SIPPRA – after this first round, focused just on federal contributions to outcomes payment, there is an anticipated round of funds for feasibility studies at a later date. Awards under the outcomes-payment funding opportunity won't be announced until November (based on the length of these applications, we aren't surprised!). But the impacts of SIPPRA are already being felt before awards are announced. This federal opportunity, so long in the making, has the impact of
catalyzing
partnerships, investments, and funding in several possible projects across the country. Even for those projects which decided not to apply, this opportunity was a call to action, to get partners around the table and chart a path forward.
Opportunities for Success
We had the opportunity to support several communities that were considering this federal partnership opportunity, and in each, the specific guidance and deadlines of SIPPRA created momentum around exciting projects. In each of these communities, work had been underway to explore PFS for some time now, including formal feasibility studies – but SIPPRA created a tangible goal. In some ways, it feels similar to the sea change precipitated by the Race to the Top – Early Learning Challenge Grants several years ago – applicant states had to smooth the way for several policies in order to even apply, which has had implications for early childhood systems
in the years since
. We applaud the federal government for creating this opportunity to further investments in programs that work for children, and we look forward to continuing the conversation about this process at our
September 19th convening on social impact funding
in the Washington, D.C. area. We also intend to continue our partnership with the Sorenson Impact Center, working with communities on the next round of applications (at a date to be announced) regarding the funding of feasibility studies. To stay informed on either the Convening or SIPPRA opportunities, please reach out to
Mary Garvey
.