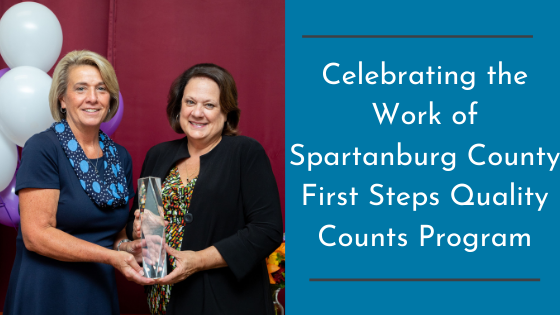 Celebrating the Work of Spartanburg County First Steps Quality Counts Program
This week's blog is written by Keisha Gray, Program Director, Early Childhood Development, Mary Black Foundation
Congratulations to Quality Counts!
On Tuesday, October 6, a small group of colleagues gathered to await the announcement of the 2020
Dick and Tunky Riley WhatWorksSC Award
winner. 2020 marked the 10
th
anniversary of this recognition opportunity, focused on identifying and celebrating programs across the state that are making a difference for children and communities.  This year, our very own
Quality Counts
program was identified, and had made it onto the list of top three finalists.  In addition to the recognition, the top program would receive a $10,000 cash award to help support the continuation of its efforts.
About the Award
The three finalists for this year included the
Alternative Pathways to Educator Certification (APEC) Program
out of Columbia,
Monaview MAGIC Initiative
, an after-school program in Greenville, and Spartanburg County First Steps'
Quality Counts
program.  Ultimately it was
Quality Counts
that was named the
2020 WhatWorksSC Award
winner.  Recognized as a program that "creates high-quality learning environments and promotes best practices for teachers to help prepare students for success in school and life," this statewide recognition of this local program tells the story of the leading early childhood ecosystem in Spartanburg County.
Thank You!
Thank you to the leadership and staff of First Steps and
Quality Counts
for their good work.  We all join you in celebrating the successes that you help create in the lives of young children and families.