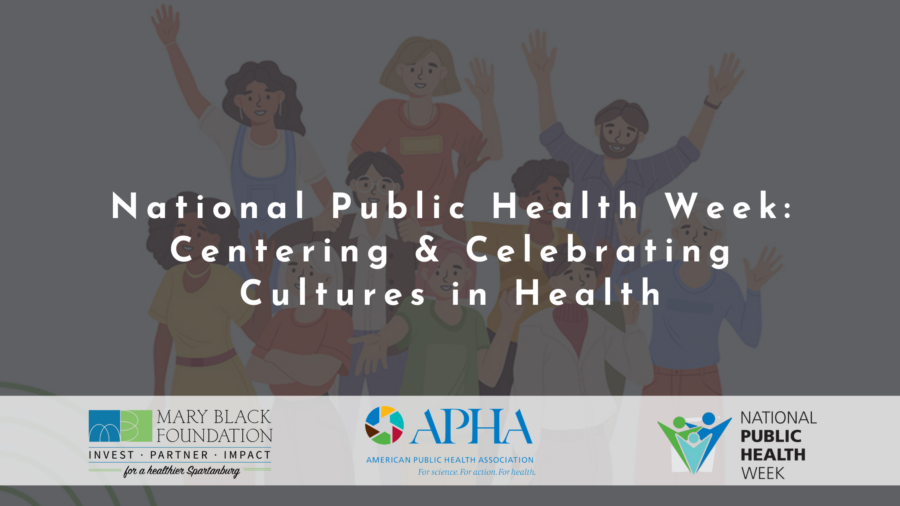 Centering and Celebrating Cultures in Health
April 3-9 is National Public Health Week!

The National Public Health Week theme this year is Centering and Celebrating Cultures in Health. Feeling like we belong, being a part of our communities and fostering cultural connections supports our health and the quality of our lives. As we celebrate the 28th NPHW, April 3-9, we want everyone to know they can make their communities healthier, safer and stronger when we support and stay engaged with one another.
Our cultures have always shaped our health. We learn from the communities we're born in and that we build together. For this NPHW, we look to community leaders as our health leaders. We celebrate the unique and joyful ways different cultures focus on health. And we look to how we can learn from each other, with humility and openness.
2023 Daily Themes
During each day of National Public Health Week, we focus on a particular public health topic. Then, we identify ways each of us can make a difference on that topic. These areas are critical to our future success in creating the healthiest nation, and everyone can do their part to help.
People with greater feelings of support, connection and inclusion within their networks may live longer, respond better to stress and have stronger immune systems than those who are isolated from their communities
Research shows that cross-sector efforts are needed to redesign the conditions of our social, built and natural environments to promote health equity and improve social determinants of health
Become more engaged or re-engage with your community and make an impact on public health – join a community garden, recreation sports league, or fitness group, donate healthy and culturally appropriate canned food options to food pantries or volunteer at local food distributions
Tuesday: VIOLENCE PREVENTION
Urge policymakers to provide research funding that's on par with the nation's gun violence epidemic
Work with local colleges and universities to prevent sexual violence and provide training on ways to better help victims of sexual violence
Learn about community-based strategies for creating the kinds of safe, stable and nurturing environments that help prevent child abuse and neglect
Advocate for community-driven solutions that identify and target the root of violence and don't criminalize entire communities
Wednesday: REPRODUCTIVE AND SEXUAL HEALTH
The lack of inclusive and accessible reproductive and sexual health care and education negatively affects everyone, but marginalized communities carry a greater burden of harm – Black women are three times more likely to die from a pregnancy-related cause than white women
Urge your elected officials to protect access to the full spectrum of reproductive health care
Advocate for sex education policymakers to create and execute culturally competent curricula that align with the National Sex Education Standards and LGBTQ+-inclusive Professional Learning Standards for Sex Education
Practicing mindfulness, eating a well-balanced diet, engaging in physical exercise and getting a good night's rest have been proven to help improve mental health
In the U.S. alone, millions of Americans are affected by a mental illness – anxiety disorders, bipolar disorders and depression are some of the most common (rates are even higher for minority populations)
To make an impact on your community's mental health and well-being, you can volunteer for a local mental health organization
14% of Americans live in rural areas – rural Americans have higher rates of cigarette smoking, high blood pressure and diabetes
Compared to urban residents, rural Americans are at higher risk for poor health outcomes because of the range of health disparities they face
Improve mental and physical health and community involvement by creating activity programs and modifying local areas like parks and playgrounds and creating walking trails and protected bike lanes
Provide mentoring, counseling, vocational training and college prep for underrepresented students
To move toward health equity, it's critical we recognize that people with disabilities are facing health disparities
One in three adults with disabilities does not have a primary health care provider, and one in three adults with disabilities has unmet health care needs due to financial cost
Improving access to nutritious food — particularly in areas with limited access to fresh produce — has been linked to improving overall health and eating habits
Doctors' offices can provide health information and resources in multiple languages for people whose primary language is not English
Sunday: NUTRITION AND FOOD
Accessibility and affordability of nutritious food can determine a lifetime of health outcomes
In 2021, 10.4% of Americans lived in households that experienced food insecurity, meaning they lacked access to adequate nutritious foods
Food-insecure families face difficult decisions like choosing between buying groceries or paying for health care
Research shows that children who participate in federal programs such as SNAP and WIC have higher levels of food security into adulthood