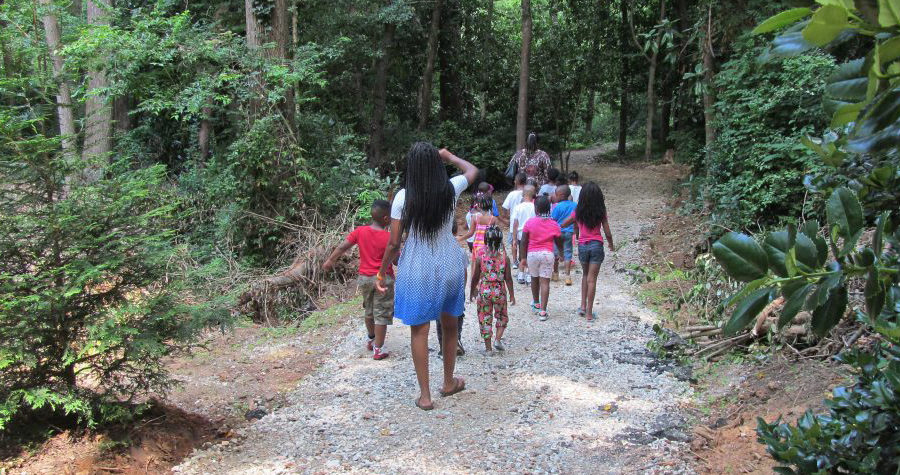 Today's blog is written by Robin Vollmer, Executive Director of Hatcher Garden & Woodland Preserve.
Hatcher's Growing Healthy & Active Living Walkways, Pathways, and By-Ways project (Hatcher Project) is dedicated to all the residents in Spartanburg and surrounding counties, to promote exercise on a safe, newly extended walking trail.
The Hatcher Project, provided by a Mary Black Foundation Grant, grew from a pressing need to extend the existing ½ mile walkway located at Hatcher Garden, to include a new ½ mile trail on property donated by the Hatcher family.  With over 40,000 visitors annually, nearly 10,000 being children, and daily jaunts by many local seniors, the development of safer and easily accessible trails for mobility challenged visitors was paramount.  Natural stone seating for resting, and outdoor classrooms for "teachable moments" with school groups and families, were design essentials for Hatcher Garden.
Recently voted by Spartanburg County Citizens as the 2017 #1 Visitor Attraction, Hatcher Garden is a free, public garden, open every day, sunrise to sunset. The Garden offers sheltered picnic areas, ADA compliant restrooms and water fountain, scenic photo spots with creeks, waterfall and flora, and ample places for healthy exercise, rest, rejuvenation, and relaxation along shaded, picturesque paved trails, soon to be a full mile long.
The new ½ mile path is artistically rimmed with antique Camellias, Tea Olives, and Rhododendrons originally planted by the Hatchers.  Presently, with 85% completion of the new trail, it has 2-wheelchair-wide, graded, cleared paths with thick gravel walkways, ready for paving this summer. Panoramic views flow along the new trail and throughout the Garden, providing an aesthetic retreat for all visitors.
This summer, 600+ students, Grades K-5, from Cleveland Academy of Leadership will walk this new trail and our existing pathways, learning about nature.  We welcome them and ALL of you to explore Hatcher Garden's airy, beautiful, enduring walkways for healthy, active living through exercise, nature study, and reflection!
Click here to learn more about the Hatcher Project and Garden.