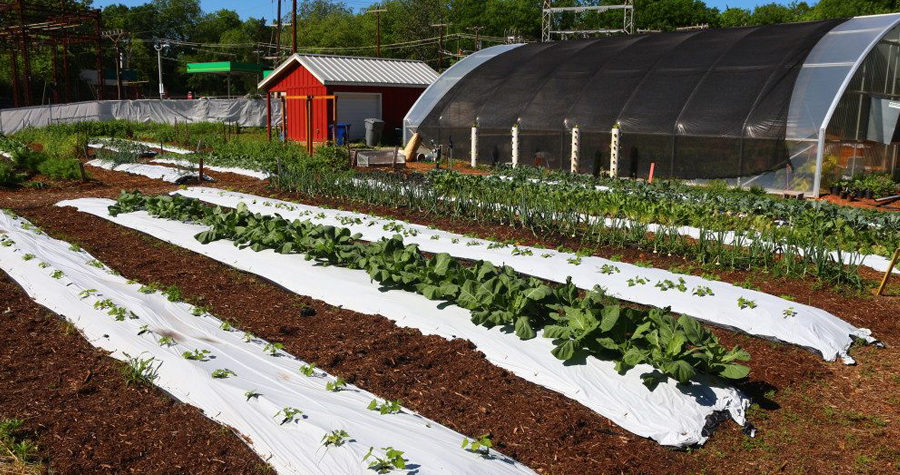 Today's blog is written by Caroline Sexton, Executive Director of Hub City Farmers' Market.
Most people know the Hub City Farmers' Market (HCFM) by the Saturday Market offered at Northside Harvest Park, but HCFM's mission to "increase supply, demand, and access to healthy, local food in Spartanburg County" extends beyond the Saturday Market! Did you know…. HCFM's
SNAP Matching
program matches SNAP dollars (food stamps) up to $40 each Saturday, effectively doubling the purchasing power for low-income families in Spartanburg, last year the organization matched over $18,000 dollars for a total impact of $43,000 in food for low-income families. The
Urban Farm
, located at Northside Harvest Park, offers the public the opportunity to learn about how to grow produce through classes and volunteer opportunities. Public classes and volunteer days are held on the third Saturday of each month, February – November, but opportunities can be scheduled throughout the week. Produce from the farm is sold on the Mobile Market, in Farm Bags, and donated to local food pantries and soup kitchens. The
Mobile Market
, the first of its kind in South Carolina when it began in 2010, received an upgrade after being off the road for a year and started making stops again last week! With over 20 stops/week, the Mobile Market purchases produce and value-added food products from local farmers and vendors and sells them throughout the county increasing access to healthy food for those who can't come to the Market and giving local farmers another outlet for sales. Each season, HCFM offers
Farm Bags
to the community, which include a random assortment of local produce, meat, and value-added products along with recipes each week for eight weeks. The bags encourage customers to try products that they may be less familiar with and provide yet another outlet for our farmers to sell their products. Managed by HCFM, the
SCF Community Garden
highlights the importance of healthy, local food in the community with 12 rentable beds on N. Church St. Renters include Children's Security Blanket, who uses the produce they grow to feed families they work with, Health in Hand Juice Bar, Blue Moon Specialty Foods, and RJ Rockers Brewery. More than just a market, we hope you will find other ways to be a part of everything that the Hub City Farmers' Market is doing! To contact us about any of the opportunities listed above, please email Caroline Sexton at csexton@hubcityfm.org.