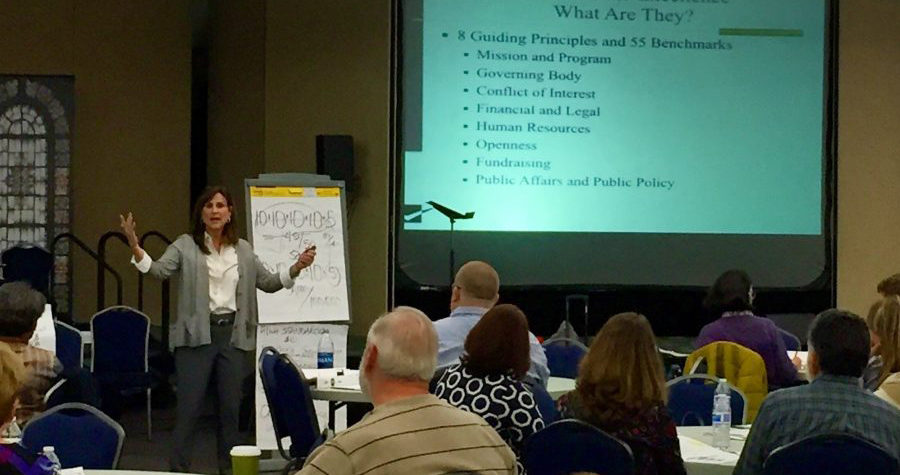 On October 24th, Spartanburg's Joint Funders welcomed Allison Black Cornelius for a one-day workshop, "Standards for Excellence: An Ethics and Accountability Code for the Nonprofit Sector." Kathy Dunleavy, President and CEO of the Mary Black Foundation, shared, "On behalf of the Joint Funders, we were delighted to provide this training for our community. Whether you are the Executive Director or a Board Member, Allison provided the tools and guidelines to strengthen your non-profit. Her ability to provide this serious information in a fun and relaxing way made it a most enjoyable experience."
The workshop focused on 8 Guiding Principles for achieving excellence as a nonprofit organization:
• Mission and Program,
• Governing Body,
• Conflict of Interest,
• Financial and Legal,
• Human Resources,
• Openness,
• Fundraising, and
• Public Affairs and Public Policy.
Allison presented thoughtful and engaging exercises that allowed participants to begin applying this knowledge to each of the organizations represented.
Below are a few thoughts from nonprofit leaders and board members in attendance.
"Thank you for bringing Allison to Spartanburg again! I first heard her in the basement of the Mary Black Foundation 13-14 years ago and she is just as, if not more, impactful today as she was back then. The only shame of that day is that the rest of our board – in fact, everyone who serves on a board in Spartanburg – did not get to hear her." – Stanford McMillan, Hatcher Gardens Board Chair
"The program was a very cost effective opportunity for local organizations to receive exposure to a nationally recognized expert on non-profit excellence. Through an engaging and inspiring presentation, Allison walked attendees through best practices for organizational management and engagement. Equally as important, she drew attention to the pitfalls that stunt growth and cause non-profits to run afoul of the law. Attendees left the presentation excited and energized to go out and achieve even greater things as we all work to make Spartanburg a better place for everyone." – Vic Bailey, III, Healthy Smiles Board Chair
"I can't remember where I heard it, but, 'Thousands of candles can be lit from one single candle.' Allison certainly inspired us today by rekindling the fire in our hearts and our passion for our missions so that we can encourage and lead our boards to do amazing things. Thank you Joint Funders for caring and for giving us all the opportunity for such a dynamic day." – Kitta Cates, Healthy Smiles Executive Director
For more information on Allison Black Cornelius, visit her website: http://www.blackfish.org/.