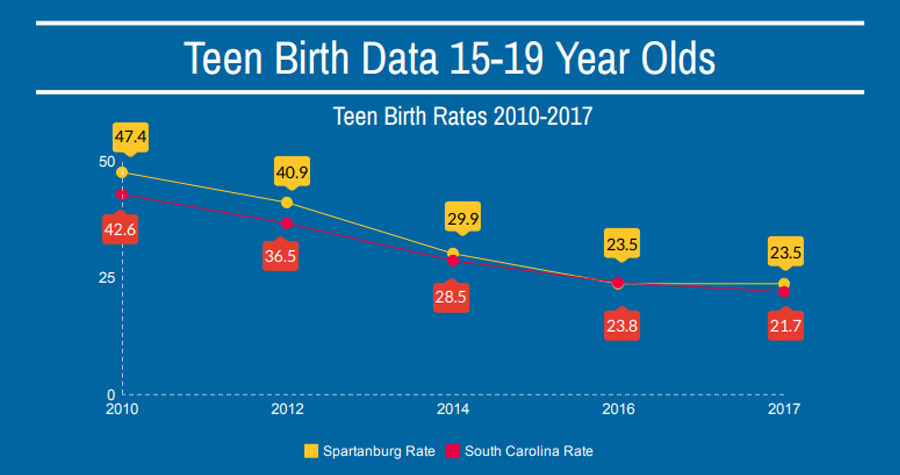 In less than a decade, the teen birth rate across Spartanburg County has dropped by more than 50%, improving educational, social, and health outcomes for teens and saving county taxpayers money in the process.
In 2008, 606 children were born to teen parents (ages 15-19) in Spartanburg County.  According to data just released by SC Department of Health and Environmental Control, in 2017, there were only 239 children born to teens.
This significant decline is the result of an intensive, multi-year effort by many organizations in Spartanburg County to connect youth to high quality health education in school-based and community-based settings, ensure access to effective contraception, and serve young people with positive youth development programs that give young people hope and vision for their future.
Connect, the Foundation's adolescent health initiative, is leading the ongoing teen pregnancy prevention efforts in Spartanburg.  "Preventing teen childbearing is one of the best ways to prevent poverty and is critically important to the economic vitality of our community." said Polly Edwards-Padgett, Program Director, Connect.
While the rate of teen births in Spartanburg (23.5 per 1,000 females 15-19) remained unchanged from last year, the SC rate declined slightly. According to Edwards-Padgett, "the reduction in rates since 2008 is a success story, but the work must continue to maintain the level of service to young people and to reach the most vulnerable youth in our communities."  Analysis of the 2017 data shows priority zip codes that continue to have higher rates of teen pregnancy than the county as a whole.  Connect will develop targeted strategies to serve the young people in these communities.
Teen pregnancy remains a community indicator that is linked to educational attainment, workforce development, and income security; therefore, it remains a priority issue area.