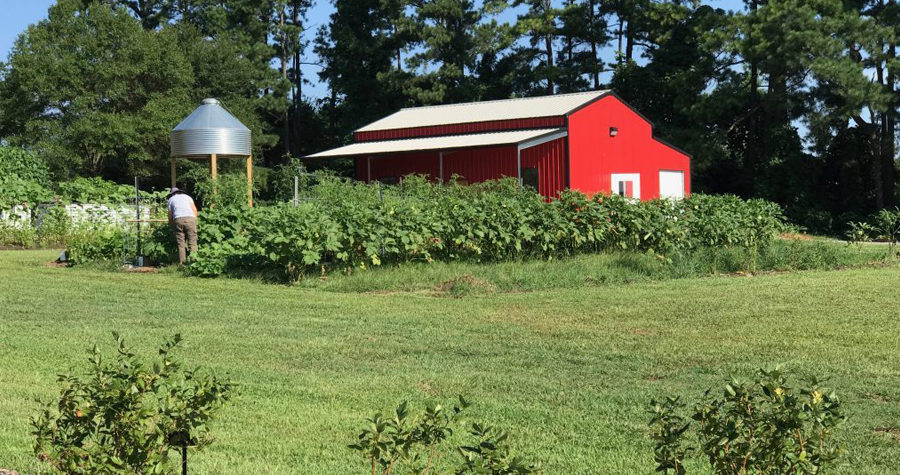 Today's blog was written by Rebecca Parrish, Director of Grants at the Spartanburg Community College Foundation
With support from the Mary Black Foundation, Spartanburg Community College's (SCC) Horticulture Department recently constructed its Center for Sustainable Agriculture, a barn-style building serving as the centerpiece of a new certificate program focused on sustainable agriculture, agribusiness, and food systems. The Center is located at the SCC entrance off Fairforest Road.
Launched in the Fall 2017, SCC's Sustainable Agriculture certificate program is designed for individuals already employed or interested in the production of agronomic crops in a sustainable environment, preparing them for jobs in the agribusiness and food systems industry, but has garnered students with a keen interest in urban farming and community food systems.
Students learn the ecological, biological, environmental and economic impact of growing food such as fruits and vegetables sustainably. The program is designed to strengthen our local environment, food system and economy by providing educated and skilled employees.
The Center houses the production and education center featuring classroom space, storage space, and a washing and harvesting center where harvested crops are washed, weighed, packaged, and prepared for volunteer pick-up and delivery to community partners like Hub City Farmers' Market.
The program is also producing approximately 1.5 acres of organically raised, seasonally grown fruits and vegetables. This includes four 4'x75′ incubator beds for shared community use, currently serving Spartanburg Urban Mission and its Northside and Cleveland Heights interns and neighbors. To date, 518 people have been served.
In addition to serving students through education, and community partners through produce, the Center for Sustainable Agriculture is available for tours and school visits. To schedule, please contact Jay Moore at moorej@sccsc.edu.
Students may enroll fall, spring or summer term in the Sustainable Agriculture Certificate Program. To register, visit:  https://www.sccsc.edu/horticulture/