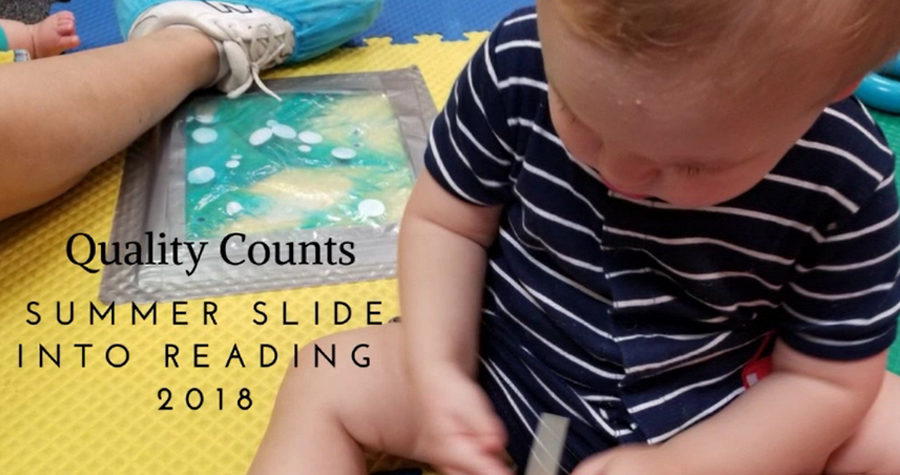 This weeks blog is written by Barbara Manoski, Executive Director for Spartanburg County First Steps
For many child development centers, the word summer may mean extra time spent playing outside, splashing in baby pools, or planting a garden. Activities like those, are learning moments for young children, and when an engaged teacher and a developmentally appropriate book are added it also becomes a pre-literacy activity. Centers participating in Quality Counts, an early care and education quality initiative funded by the Mary Black Foundation and implemented by Spartanburg County First Steps, know summer means all of those things and much more! For the third consecutive year, Quality Counts has offered participating centers a "Slide into Summer" reading program to help support children's reading during the summer months. Programs receive carefully chosen books to share with the children and are encouraged to develop creative activities that support STEM learning as well as vocabulary building skills.
Tammy Compton, Program Director for Quality Counts, said, "We were really excited to have 100% participation from all of our programs this summer. Families were able to support the initiative by logging minutes that they read to their children at home. We had over 600 preschoolers read more than 80,000 minutes in June and July. Children have to hear a word to learn a word. We feel very sure that a lot of extra brain building happened this summer."
Click here to watch a short video that shares some of the learning moments and fun activities the "Slide into Summer" reading program inspired.