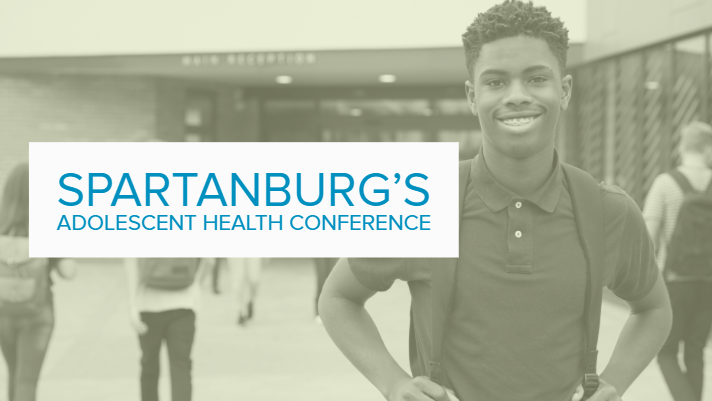 Spartanburg's Adolescent Health Conference
This week's blog is written by Lucy Willms, Adolescent Health Grants Manager, Spartanburg School District 7
Did you know there is a Spartanburg-focused adolescent health conference happening at the end of the summer?
About the Adolescent Health Conference
The inaugural Adolescent Health Conference, which takes place Friday,
August 16, 2019
at the USC Upstate Readiness Center, seeks to build the capacity of local professionals working in teen pregnancy and STI/HIV prevention, education, and positive youth development. The day-long event, sponsored by Connect,
Mary Black Foundation's Adolescent Health Initiative
, and the Spartanburg School District Consortium, will include a keynote speaker, three workshop sessions featuring a variety of topics, a youth panel, and vendor booths. In addition to a day of interactive learning, one of the key aims is to increase connections between youth-serving providers in order to strengthen the safety net for teens in Spartanburg county. The Conference attendees include middle and high school comprehensive health education teachers, administrators, and guidance counselors, as well as representatives from community-based organizations and health care providers. Funded by two federal, adolescent health prevention grants, the Conference focuses specifically on Spartanburg county teens, their needs, and the network of school and community partners who serve them.
The Keynote
This year's keynote speaker, Dr. David Walsh of Mind Positive Parenting, is an award-winning psychologist, best-selling author and international speaker. He will address the concept of "grit" and why having grit is critical for school and life success. Grit is another name for "executive function," and it determines
how
we learn as opposed to
what
we learn, including the ability to concentrate, manage impulses and behavior, passion, perseverance, resilience, focus and motivation. Dr. Walsh will describe the six threats that undermine developing grit and practical strategies for assuring that 21
st
century youth develop the grit traits that will ensure their happiness and success. We are excited to hear how Dr. Walsh's perspectives inform and enhance our efforts in the county-wide Compassionate Schools Initiative.
The Workshops
The workshop sessions provide a forum for participants to receive more in-depth training on the subjects that are most pertinent to them. The majority of workshop sessions are facilitated by local professionals in order to increase the participants' familiarity with the people, resources, and services available in our county. Participants will walk away from each session with both new resources and new relationships. The workshops include topics such as developing rapport, adolescent mental health, healthy teen relationships, LGBTQI youth, effective facilitation, and listening to youth. Click
here
for a complete listing.
The Youth Panel
One of the most exciting components of the Adolescent Health Conference is this year's youth panel. Since we know that our work with teens is more effective when they have a seat at the table and their voices are being heard, youth have been invited to participate in the day's activities and conversations. With the help of a moderator, a team of local youth leaders will discuss health-related topics to inform the decision-making adults in the room about youth perspectives so that they can be more successful in their work with teens.
Register Today
Spots to attend the Conference are still available, but they are filling up fast. The deadline to register is
August 6, 2019
. The cost is $30 and includes all conference materials and lunch.
Register
now through Eventbrite. Don't miss this unique learning and networking opportunity!