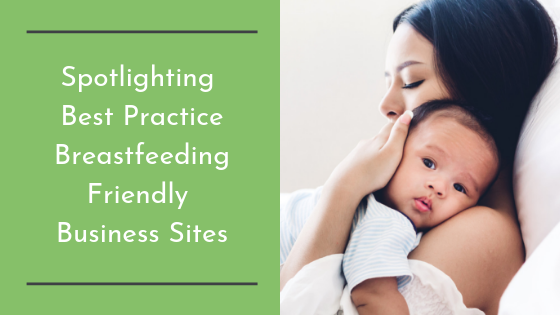 Spotlighting Best Practice Breastfeeding Business Friendly Site
This week's blog is written by Maya Ward, VISTA Volunteer Coordinator, BirthMatters
August is National Breastfeeding Month
Ensuring healthy babies is a key focus of Mary Black Foundation's
early childhood development focus area
. Research has shown that being breastfed can lead to a healthier life for babies. The many health benefits include:
Protection against many common infections
Nutritionally balanced meals
Better survival for the first year of life
In addition to these benefits, breast milk has also been found to include many nutrients, vitamins and antibodies which contribute to the development of everything from babies' immune to digestive systems.
BirthMatters Highlights Business Sites
BirthMatters is a local non-profit organization that seeks to reduce teen pregnancy through reproductive health education and to provide doula support to vulnerable expectant mothers and their families. One of their staff members, Maya, ecently spoke with Staci Gallman, the Women and Children Services Program Coordinator at Spartanburg Regional, about how the healthcare system has approached being breastfeeding friendly and why breastfeeding matters to them. Staci says that breastfeeding is important to Spartanburg Regional because they know it is the gold standard in infant nutrition from both a public health and a community health standpoint. She notes that breastfeeding has many great health benefits for both baby and mom, and can decrease readmissions and further healthcare costs. And as a hospital system, Spartanburg Regional wants to follow the gold standard and be an example of health for the community.
Spartanburg Regional Supports Breastfeeding
Spartanburg Regional has made a determined effort to promote their breastfeeding friendly policies since they became a baby friendly hospital in 2016. The healthcare system has policies in place that allow breastfeeding employees time to express milk, and there are designated lactation rooms around the hospital that can be used by staff and visitors who would like a private space to express milk. In addition, Staci says that all staff receives some form of baby friendly training and the labor and delivery staff has special breastfeeding training. For community members, Spartanburg Regional has breastfeeding information on their website and hosts weekly breastfeeding support groups that are promoted to all patients. Staci admits that there was some hesitation when Spartanburg Regional began to make changes to become a baby friendly hospital. But that hesitation went away quickly once they started providing education and training on the benefits of breastfeeding. She notes that once people realize the importance of breastfeeding, the get invested in promoting a breastfeeding friendly culture within the healthcare system and around the community. And that investment has had a large ripple effect. Breastfeeding rates at Spartanburg Regional have increased, and the demand for lactation rooms has increased.
Q&A with Spartanburg Regional about Breastfeeding
Why does breastfeeding matter to Spartanburg Regional?
It is what's best for infant nutrition, as a healthcare setting we should be the ones setting an example for the community. Breastfeeding is the best standpoint in public health and community health. It has many great benefits for both baby and mom including decrease in readmissions and further healthcare costs.
What inspired you to make being breastfeeding positive a priority?
As a healthcare system, we want to support things that are evidence based and best practice.
How do you show that breastfeeding matters? Do you currently have breastfeeding policies in place?
For Employees: hourly paid staff have allotted time. Managers of departments are in charge of making sure that happens. Salaried don't have the protection, but usually have their own office and more flexibility. Can just work with their bosses. For Visitors/Clients: Have designated lactation locations. For visitors ex. at a conference: always communicate at the beginning of a workshop where the locations are. We know having good communication and making them feel supported is best practice. We also have signage and access codes. They call to assess code and phone is always staffed.
How do you promote a breastfeeding friendly culture at Spartanburg Regional?
As a baby friendly hospital, we convey that we have taken steps to support breastfeeding. Breastfeeding is a priority. We offer education for staff and the community. All labor and delivery staff members have breastfeeding education and training. We also provide all Regional employees some form of baby friendly and breastfeeding education. Our website includes breastfeeding information for the community. We believe the emphasis on education leads to work culture change. Our breastfeeding support groups weekly, has a huge turnout. We actually had to increase how many times it is offered and where it is offered to meet the community's need. These sessions are led by our lactation consultants. This is promoted to all patients at discharge after delivery, and to those attending the prenatal classes. All OB-GYN offices have flyers about breastfeeding and it's also on the website.
How long have you had these policies in place? What was it like implementing these polices?
Since 2016, when Regional started to make big changes to become baby friendly certified. Change is always hard. Staff had to be educated about why they were making the changes so that they could become invested in it. Once they were invested through education we didn't see much pushback. People were pretty receptive to it and understand it is best practice. Regional always had one lactation room, but since 2016 we increased the number of rooms. Staff seems to use the rooms more than the community because that is population demand.
Baby friendly Policies include:
Keeping mom and baby in the room so they can learn the cues
Skin to skin at delivery
Specially trained nurses in Labor and Delivery: nurse provide education about breastfeeding prior to delivery, present at delivery to help with skin to skin, provide breastfeeding assistance after an hour of skin to skin
Have you gotten any feedback from employees or visitors about your breastfeeding friendly efforts?
Breastfeeding rates have increased and the need for rooms has increased which shows a positive response.  Moving towards breastfeeding being the norm feels really good.