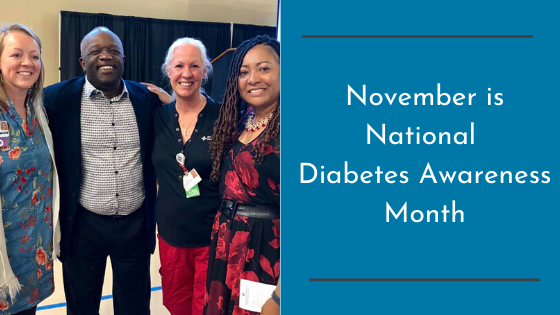 November is National Diabetes Awareness Month
Today's blog is written by Erica Moore, Diabetes Care & Education Specialist, Spartanburg Regional Healthcare System
The Issue
Did you know November is National Diabetes Awareness Month? In fact, November 14 is World Diabetes Day.  Each year during this month and in particular on World Diabetes Day, the community comes together to bring attention to diabetes and its impact on millions of people in the United States and around the world. South Carolina has one of the highest rates of diabetes in the country so it is important to bring attention to diabetes so we can fight it together.
Living with Diabetes
One of the most common questions people with diabetes ask is "
what can I eat
"? A simple answer to this complex question is…more plants! Research is showing us that eating a whole-food plant-based diet is one of the best ways not only to treat diabetes, but prevent it before it starts. This means getting most of your food each day from vegetables, fruits, legumes, nuts and whole grains. Eat less processed foods with ingredients you can't pronounce.  Eating plant-based can help improve blood sugars, heart health, and weight.
A Plant-Based Diet Approach
Our community is embracing the plant-based movement. On November 3, the City of Spartanburg and the Joe R. Utley Heart Resource Center at Spartanburg Medical Center hosted Milton Mills, MD at CC Woodson Community Center. This event,
Diet and the Gospel: Building Healthy Temples with Food
included a plant-based Sunday dinner provided by SRHS Executive Chef Artina Lindsey. Approximately 200 people came out to hear Dr. Mills' message on the biblical imperative to enjoy plant foods in abundance to promote health. The link between the standard American diet and the chronic diseases that plague us (diabetes, heart disease, hypertension, kidney disease, dementia, etc.) is abundantly clear. Dr. Mills encouraged us to eat the way God intended (no animal flesh/products) with a wide array of fruits, vegetables, whole grains, and legumes. The scientific research is clear that this will improve our physical and spiritual health and provide mental clarity. If you would like more information about the benefits of whole food plant-based eating, contact Lori Boyd, RN (
Ltboyd@srhs.com
) at (864) 560-8185.
Nutrition Expo
Spartanburg Regional Healthcare System will be hosting their 3
rd
annual
Diabetes Nutrition Expo
on November 11 from 10 am-noon at the William L. Arthur Center. Local nutrition resources will be onsite, including recipes and food samples inspired by Chef Artina Lindsey.  Registered Dietitians will be onsite to answer your plant-based eating questions, including Julia Savoy. Savoy states her best tip to include more plants "Go for the greens! Try a variety of green leafy vegetables such as kale, spinach, collards greens, and swiss chard. They are great steamed, grilled, braised or stir-fried." Plant-based eating doesn't have to be complicated.  Moving toward a plant-based eating plan can start with simply adding more veggies to one meal per day or having a meatless meal one time a week. If you have questions or need support call a Diabetes Care & Education Specialist at 864-560-6419 x5.