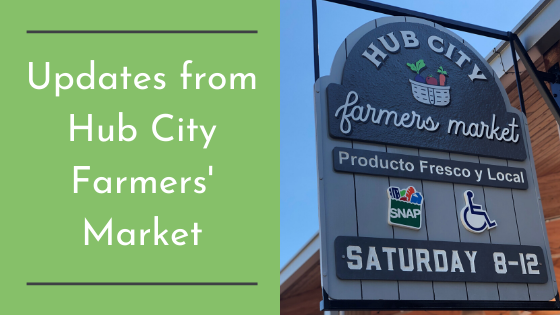 Updates from Hub City Farmers' Market
Today's blog is written by Jordan Wolfe, Executive Director, Connect, Hub City Farmers' Market
The Saturday Farmers' Market
Hub City Farmers' Market (HCFM) works to increase the supply, demand and access of healthy, local foods in Spartanburg through a variety of programs. The first program is the most well-known: The Saturday Farmers' Market, which is the longest running market in the upstate. It is open every Saturday from
8 AM-12 AM
April through December at Northside Harvest Park and features live music, kids activities, cooking demos, cultural celebrations, and outdoor activities such as yoga. We also have our Winter Markets the
3rd Saturday
of January, February and March at Ciclops Cyderi from
9 AM-12 PM
. We love supporting our local growers, artisans, and makers! The Farmers' Market has everything you would need from seasonal fruits and veggies, meat, cheese, bread and baked goods, honey, pasta, sauces, candles, pottery, body products, and so much more. This fall, the seasonal produce ranges from apples to arugula and is always hearty and delicious.
Keeping Up the Momentum
There has been a lot of great momentum at the Farmers' Market this past year! We have installed a new sign that showcases our new logo by
ALINE Interactive
, our market hours, that we accept SNAP, and it says "fresh, local food" in Spanish! HCFM also hired Maggie MacDonald to design a mural for Harvest Park, highlighting the importance of planting your roots in Spartanburg. A special thanks to
Mary Black Foundation
for their continued support and funding for HCFM operations.
Mobile Market
In addition to the Farmer's Market, HCFM also has a Mobile Market. The Mobile Market operates Monday-Friday at 18 different stops a week and two-thirds of those stops are in low-income/low-access areas. The Mobile Market is a great program because it helps our local farmers increase their sales outside of the Farmers' Market. The Mobile Market also doubles and matches SNAP (like the Farmer's Market) and provides $10 in Healthy Bucks, so a SNAP customer could turn $40 into $90 everyday on the Mobile Market and Farmers' Market. HCFM knows that most of Spartanburg cannot make it to the Farmers' Market because of work, families, traveling, etc. and so the Mobile Market brings the local produce and value-added goods to them! The Mobile Market features similar varieties of items as the Farmer's Market, so check out our schedule on
our website.
Urban Teaching Farm
And finally, HCFM has an Urban Teaching Farm at Northside Harvest Park. The ½ acre sustainable farm features produce that you won't typically find at the grocery store because we strive to grow more diverse varieties from other cultures. The Urban Teaching Farm also has two great education programs! The first is Seed to Table (S2T) for students aged 5-14. S2T is a STEM-based, state plan approved program where the students learn Math, English and Science through sustainable agriculture. We welcome over 400 students a year on the Urban Teaching Farm and it is amazing proving the healthy choice can be the easy choice through the familiarization of diverse fruits and vegetables. The second program is our new Youth Development program (coming to the farm summer 2020). HCFM will hire 4 youths (ages 14-18) to work on the Urban Teaching Farm for 10 weeks and learn about local agriculture and how to work in a professional environment. One day a week the students will attend financial literacy classes, job training workshops, health and wellness classes, etiquette classes, cooking classes, and tour local colleges and companies. We are very excited about this program and hope we can make a difference with Spartanburg youth!
Making Healthy Choices
Hub City Farmers' Market is proud to supply Spartanburg with healthy, local food while supporting our local vendors! It is important to make health our first priority to live a long, happy life. So come visit HCFM's Farmers Market, Mobile Market, or Urban Teaching Farm and learn about the true value that a few healthy changes can make.