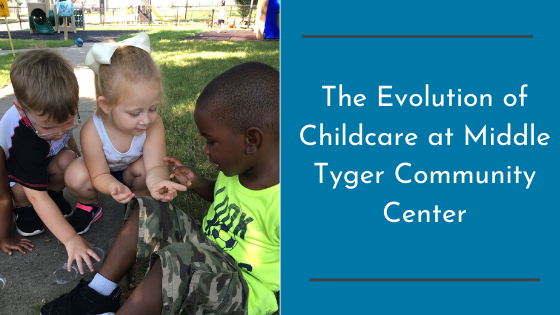 The Evolution of Childcare at Middle Tyger Community Center
Today's blog is written by Haley Grau, Executive Director, Middle Tyger Community Center and Amy Faulkner, M.Ed, Special Services Coordinator, Spartanburg County School District Five
History
In 1998, Mary Black Foundation generously decided to invest a significant amount of funding in Mary Black's home town to create a resource rich community center in a rural, high poverty area – the
Spartanburg County School District Five
community. This investment birthed
Middle Tyger Community Center
. Twenty-One years later, Middle Tyger Community Center (MTCC) continues to be a resource rich childcare center that works to create healthy families; to encourage and assist all citizens to develop solutions to the problems identified in our community; and to foster collaboration among agencies, people who want to help, and those who need help. The first program that
Mary Black Foundation helped MTCC develop
was the "This Is My Child" (TIMC) childcare program which was designed to serve the children of adolescent mothers while the mothers attended school and parenting classes.  TIMC has evolved to serve vulnerable populations including the children of adolescent mothers, low-income families, and children with developmental vulnerabilities. The program serves children, ages 6 weeks – 3K, in the Spartanburg County School District Five Community. TIMC provides high quality early childcare and education to ensure school readiness and the healthy development of children. TIMC is the only Quality Counts 5-Star and DSS A+ rated childcare program serving our portion of Spartanburg County.
Fostering Inclusive Preschool Environment
In our dedication to serve children with developmental vulnerabilities, MTCC partners with Spartanburg County School District Five Special Services to offer developmental screenings and intervention services to the children who present a developmental vulnerability. In addition, TIMC is an intervention services friendly environment, which means it allows outside intervention service agencies the access to work with children under supervised care in their peer classroom environment rather than a clinical environment which is often stress producing for the child.
The Need for Childcare
Further, in response to the needs of our community, TIMC and Spartanburg County School District Five has partnered to develop an inclusive preschool environment for children with disabilities. An inclusive preschool environment is defined as a conducive learning environment that allows children with disabilities the opportunity to receive education alongside their non-disabled peers rather than creating a separate environment that alienates these children from their peers. In 2016, 90% of preschoolers with special needs in Spartanburg District Five were served in a separate preschool classroom, away from typically developing peers.  District special education leaders recognized the need for creating a full continuum of special education service options for preschoolers, including community child care centers.  Research shows that an inclusive preschool setting is beneficial for children with and without special needs, and inclusion in early childhood programs can set a trajectory for inclusion throughout all areas of life: school, family, church, and the community.
Collaboration
The Special Service Team of Spartanburg County School District Five was forward thinking and one of the first in South Carolina to develop strategies to create more inclusive preschool settings to help strengthen kindergarten readiness in Spartanburg County School District Five Students. The first natural and willing partner for this effort was MTCC, due in part, to the offices of D5 Special Services being housed at MTCC, but more importantly, the willingness of both MTCC and District Five to work together to serve all children. The desired results of inclusive experiences for children with and without disabilities and their families include: a sense of belonging and membership, positive social relationships and friendships, and development and learning to reach their full potential. Thus, kindergarten readiness and overall school success improve. TIMC had several students present at age 3 with developmental vulnerabilities, but the program at the time was not capable of serving these children properly without teacher training, extra staff, and student access to intervention therapies. Debbie Strickland, the Director of TIMC, was committed to finding a way to serve these students during the school day in the child's peer group environment. The District Five Special Services Team agreed to come in the childcare rooms, observe and assess the child's behavior and capabilities, work with the team members to develop a plan, and then discuss what training and resources were needed to successfully serve the child by implementing the plan.
Why it Works
These students were served because of strong collaborative efforts. At MTCC, we have fostered and experienced successful collaboration; and we are grateful for the collaboration between agencies and funders. Mary Black Foundation has offered not only funding but also its intense passion to research strategies and training which increase the understanding of child development. Funders that focus on child development, organizations which serve children, and resources that strengthen the services form a successful partnership, therefore, leading a community's efforts to serve all children.
Our Story: Inclusion Works
"This Is My Child," the childcare program at Middle Tyger Community Center is committed to preschool inclusion. The most important reason for our dedication concerns the children we serve, and the success that they have experienced. One success is evident in the story of Bailey. In October 2016, Bailey at 22 months old, entered DSS custody for many heartbreaking reasons. Bailey and her three month old sister were placed in kinship care with their maternal great aunt, a 28 year old single woman. Bailey's great aunt quickly realized that Bailey had severe developmental delays; she weighed 16 pounds at 22 months old. Bailey was seen by a pediatrician who recommended occupational therapy, speech therapy, mental health counseling; and the pediatrician suspected Selective Mutism. Her pediatrician did not prescribe any therapies, but she referred Bailey to a developmental pediatrician to confirm the diagnosis. Due to Bailey's being a recipient of Medicaid, she was placed on a 22 month waiting list for the developmental pediatrician appointment. Bailey's great aunt knew that waiting for the appointment could result in a life altering mistake, so she worked to find the resources that she needed to be successful. One of those resources was Spartanburg County School District Five Special Services Department. District Five Special Services provided Bailey with a Family Engagement Facilitator. The Facilitator visited Bailey's childcare and reported that the large class size was hindering Bailey's progress. In addition, the teachers were not trained to handle Bailey's special needs. The team of professionals predicted that Bailey would never blossom in that environment, meaning she would continue to refuse to use her words nor speak to her peers; therefore, her anxiety would grow and hinder her development further. Bailey's great aunt lobbied for Bailey to attend a D5 preschool for disabilities class. However, the D5 Family Engagement Facilitator expressed her concerns and strongly suggested Bailey attend the 3K program, "This Is My Child," at Middle Tyger Community Center. The District Five Family Engagement Facilitator worked with a team of professionals. An Individualized Education Plan (IEP) was created, and Bailey entered TIMC in August 2018. Immediately she began to make remarkable strides. She graduated occupational therapy, she graduated Play Therapy, and she began to use her words and speak with peers and teachers. By October 2018, Bailey had accomplished all of her IEP goals, and the IEP was dismissed. Bailey has continued to thrive; and, more importantly, she entered K4 on grade level, ready to seize the opportunities that awaited her in K4. The preschool inclusion environment of TIMC at MTCC allowed Bailey to develop alongside her developmentally advanced peers, and she was not placed in an environment that might restrict her progress. MTCC and District Five Schools changed the trajectory of Bailey's educational path. She will enter kindergarten ready to learn. Middle Tyger Community Center is committed to continuing its collaboration with Spartanburg County School District Five and improving and expanding services for children with developmental vulnerabilities. Every child, regardless of income, race, ethnicity, education levels of parents, or developmental challenges, deserves high quality, affordable childcare that prepares all children for kindergarten so that they will not only learn but thrive.