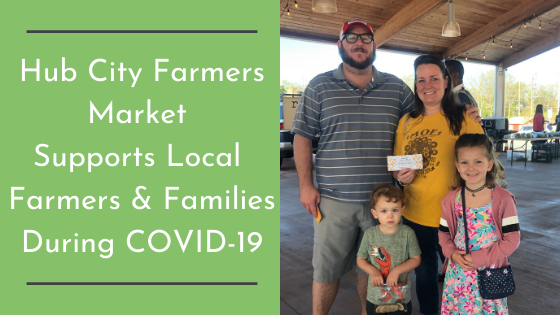 This week's blog is written by Jordan Wolfe, Executive Director, Hub City Farmers' Market
Hub City Farmers Market Supports Local Farmers and Families During COVID-19
Keeping the Market Open Supports Local Farmers and Families
Hub City Farmers Market understands that this is an extremely challenging time for everyone in Spartanburg and around the world. The COVID 19 outbreak has caused mass uncertainty, frustration, stress, and financial difficulties. Farmers markets have been deemed essential by many governments in the United States and are vital for food access and the livelihood of our local farmers. Therefore, Hub City Farmers Market is continuing to operate their Saturday Farmers Market at Northside Harvest Park beginning April 4th. Unfortunately it will not be a social gathering as we are eliminating any nonessential market activities such as live music, kid's activities, cooking demonstrations, etc. We are also placing vendors as far apart as possible, monitoring all entrances for crowd control, providing sanitation stations, using gloves when handling money, and asking customers to practice social distancing. We hope the market can be a safe and healthy environment for our customers, vendors, and staff as we battle through this pandemic together.
Financial Support for People Affected by COVID-19
In order to help our community as much as possible, we are offering $10 Healthy Hero Vouchers to anyone that has become financially vulnerable because of COVID 19. These vouchers are redeemable at the Farmers Market or Mobile Market and can be spent on any item. We have a goal to distribute $75,000 worth of Healthy Hero Vouchers to individuals and families in need and have currently received $11,500 towards this cause. The Healthy Hero Vouchers meet an immediate need during this negative time and allow us to support our local farmers so they can keep their small farms operating. For more information on the Healthy Hero Voucher campaign, please visit
https://www.hubcityfm.org/hcfm-and-covid19
.
The Mobile Market
And when there is enough local product available, Hub City Farmers Market's Mobile Market will be making weekly stops in Spartanburg neighborhoods to bring the fresh, local produce to families stuck at home. The number of stops will grow as it gets a little bit warmer as many of our farmers do not have as many crops harvested we need to meet the demand. But we do know that we will eventually be making three stops in Spartanburg Housing Authority developments: Camp Croft, Archibald Rutledge, and J.C. Bull, as well as a few other neighborhood stops. We will have the schedule posted soon and hope to make at least two stops the week of April 6th. We will also be accepting Healthy Hero Vouchers at all stops and will be utilizing proper sanitation methods to limit the spread of the virus.
Programming for Youth
And finally, because Spartanburg schools are not in session, we are bringing the Seed to Table nutrition and agriculture education videos to students online! On Tuesdays and Thursdays, HCFM's Urban Farm Manager and Community Outreach Coordinator will be filming Seed to Table videos from our Facebook account (
https://www.facebook.com/HubCityFM/
). Students who tune in and remember the key words mentioned are also eligible to receive the $10 Healthy Hero Voucher at the Farmers Market and Mobile Market and can redeem the voucher at our market booth or at any Mobile Market stop. On Mondays, Wednesdays, and Fridays, we will also be reading books that focus on gardening and nutrition at noon on Facebook live stream!
Shop Local
This Saturday, April 4th our farmers should have a variety of Spring greens, radishes, mushrooms, hydroponic lettuce, dairy, meat, fish, bread, and more. We are open 8AM-12PM at Northside Harvest Park (498 Howard St). Come as early as you can to get the good stuff! And please do not come if you are feeling ill. If you are showing any symptoms feel free to email me at
jwolfe@hubcityfm.org
and I can do your shopping for you and bring it to your door!