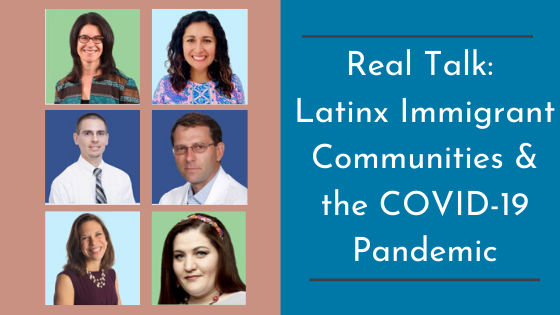 Real Talk: Latinx Immigrant Communities and the COVID-19 Pandemic
We invite you to join us on
Monday, July 27 from 3-4:30 p.m
. for another installment of the Real Talk conversations that have taken place during the COVID-19 pandemic.
Real Talk: Latinx Immigrant Communities and the COVID-19 Pandemic
will be a virtual forum hosted by Alianza Spartanburg, the Mary Black Foundation, The Spartanburg County Foundation, and Spartanburg Regional Healthcare System. Previous conversations have focused on the impact of the pandemic on the African American community. To view previous sessions, please visit
The Spartanburg County Foundation's YouTube channel
.
Latinx Families are Disproportionately Impacted by COVID-19
Latinx families are disproportionately impacted by the COVID-19 crisis due to job loss, lack of information in their language, and insufficient access to healthcare. Many Latinos are essential workers, on farms, in restaurants, and at meat-packing facilities. According to a Pew Research Center survey conducted in March of 2020, across the U.S., 49% of Latinos said they had to take a pay cut or lost a job – or both – because of COVID-19. That compared to 33% of all U.S. adults. Also according to the Pew Research Center,
Hispanic unemployment rate
in May is likely to have been 20.4%. In SC, immigrant households paid $2.1 billion in local, state and federal taxes in 2018. Undocumented households paid $160.2 million in taxes. Nevertheless, many of these households have been left out of the federal COVID-19 financial packages. If any adult member of a household does not have a Social Security number, then no one in that home is eligible for a $1,200 stimulus check under the federal CARES Act – even if the other members of the households are U.S. citizens.
Systems Issues
Systemic issues, including those that shape employment, housing, and access to care, profoundly shape the way Latinx residents experience the pandemic. This forum brings together experts in diverse fields to discuss both realities for Latinx residents during COVID-19 and the systemic work that can be shaped now for greater physical health and well-being in the future for Latinx residents of our county.
Panelists:
Laura Barbas Rhoden, Founder of Alianza Spartanburg and Professor of Spanish at Wofford College
Nora Curiel, Community Health Worker and Program Coordinator of PASOs Spartanburg
Matthew Delfino, Chief Medical Officer at ReGenesis Health Care
Julie M. Linton, MD, FAAP, Chair of the American Academy of Pediatrics (AAP) Council on Immigrant Child and Family Health
Chris Lombardozzi, Chief Medical Officer at Spartanburg Regional Healthcare System
Gianella Quiñones, MMFT, Mental Health Counselor at Spartanburg Area Mental Health Center
The conversation will be moderated by
Natalia Valenzuela Swanson
, Program Director of Healthy Eating | Active Living at the Mary Black Foundation. We hope you will join us. To register, please visit:
https://www.eventbrite.com/e/real-talk-latinx-immigrant-communities-and-the-covid-19-pandemic-tickets-114173891182