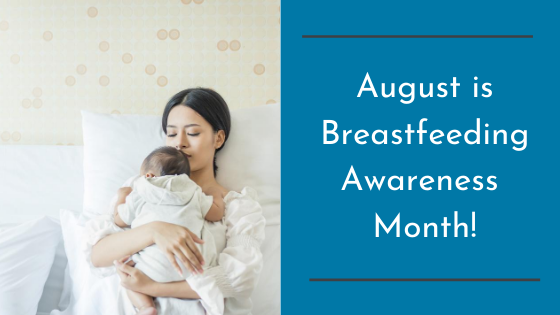 August is Breastfeeding Awareness Month!
Today's blog is written by the Breastfeeding Subcommittee of the Birth Outcomes Task Force. 
Welcoming a new baby into the world is one of the most exciting events a family can experience. Months of anticipation, planning, showers, shopping, and medical appointments all culminate in the delivery room, as expectant families usher in new life and a new generation.
Parenting During COVID-19
Expectant and new parents of today have uncharted waters to navigate with the COVID-19 pandemic. One question pregnant women and new mothers may have is whether or not they can still breastfeed if they test positive for a COVID-19 infection. The answer is yes, but with precautions. While it is still unknown if the virus can be transmitted through breastmilk, the limited data available suggests that breastfeeding is not a likely source of transmission. However, the Centers for Disease Control and the American College of Obstetricians and Gynecologists have released guidance on what measures COVID positive mothers need to implement in order to prevent passing the virus to their babies. According to the CDC and ACOG, a mother with suspected or confirmed COVID-19 should wash her hands frequently using soap and water, especially before touching her baby. The CDC and ACOG also agree that mothers with COVID-19 should wear a mask or cloth face covering while breastfeeding. If a mother chooses to hand express or pump her breastmilk for bottle feeding, both the CDC and ACOG stress the importance of washing hands with soap and water before touching any pump or bottle parts and to wear a mask while pumping. Proper sanitation of pump parts must follow each pumping session.  If a mother with COVID-19 chooses to pump, she might want ask a healthy caregiver to feed the baby the expressed breastmilk.
Importance of Breastfeeding
Breastmilk is still the best food for babies. It provides them the complete nutrition they need to grow and thrive and protects them from other types of infections. Breastfeeding also provides special time for a mother to bond with her baby. If you are an expectant mother, you can still maintain and enjoy a healthy breastfeeding journey even if you are diagnosed with COVID-19. Be sure to speak to your healthcare provider with any concerns you may have regarding your pregnancy, birth plan, breastfeeding, and postpartum experience. Additionally, one of the most crucial steps that you will need to take is making sure you have support people in place in the event that you do become ill and need help caring for your baby.
Resources
Pregnancy, birth, breastfeeding, and new parenthood can still be a joyous time, even amidst the ever-changing dynamic of the world. When shopping for those cute outfits, just make sure you add plenty of soap, hand sanitizer, and face masks to your checklist. For more information and a full list of guidelines, please visit the American College for Obstetricians and Gynecologists or the Centers for Disease Control website, and navigate to their COVID-19 resource page.
https://www.acog.org/patient-resources/faqs/pregnancy/coronavirus-pregnancy-and-breastfeeding
https://www.cdc.gov/coronavirus/2019-ncov/hcp/care-for-breastfeeding-women.html