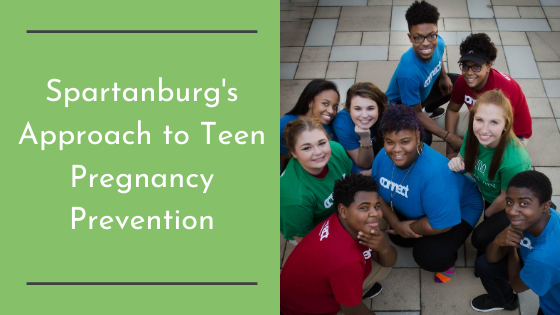 Spartanburg's Approach to Teen Pregnancy Prevention
Efforts to prevent teen pregnancy in Spartanburg date back at least two decades. While there have been a number of individuals and organizations that have been committed to this critical work in the community, several necessary conditions fortuitously came together around 2007. First, data from the Spartanburg Community Indicators Project established an obvious link between teen pregnancy and issues such as poor birth outcomes, education, and poverty. This truth captured the attention of leader and philanthropists in the community who encouraged and supported further action.
Spartanburg's Success Story
Spartanburg County's success story related to teen pregnancy prevention is the result of many individuals and organizations over time. The reduction in the teen birth rate our community has experienced would not be possible without the early vision and leadership of local philanthropy. The Spartanburg Joint Funders, along with many individual philanthropists, invested in the future of our youth and paved the way for the tremendous success that has resulted. From 2008-2018, the teen birth rate in Spartanburg has
declined by 66%
– outpacing decreases at the state and national levels. Our approach to preventing teen pregnancy has been one of Spartanburg's great success stories. Many other communities have looked to us to better understand what we have done to achieve the results that we've seen. A new report,
Connect: Spartanburg's Approach to Teen Pregnancy Prevention
, provides an overview of the 10+ years of collaboration, innovation, and perseverance. While the reduction in teen birth rates are a success that we should celebrate, it does not mean that the work can stop. In fact, our community's commitment to our youth is stronger than ever.
New Federal Funding to Continue Work
Yesterday,
Spartanburg Regional Foundation announced
that it had received a $4.4 million federal grant to continue the community's focus on teen pregnancy prevention. From 2015-2020, the Mary Black Foundation managed a similar federal grant that led to the Connect Initiative, which established adolescent friendly services, supports, and opportunities. This work would not have been possible without the leadership of
Polly Edwards-Padgett
, who served as the Project Director during the five-year federal grant.
Her passion and commitment to creating a community where all youth can reach their fullest potential has been unwavering, which is why we are thrilled that she is transitioning from the Mary Black Foundation team to the Spartanburg Regional Foundation team to lead the newest grant.
While we will miss the daily interaction with Polly, the Mary Black Foundation will continue to partner with her as she takes on this new role with the Spartanburg Regional Foundation!