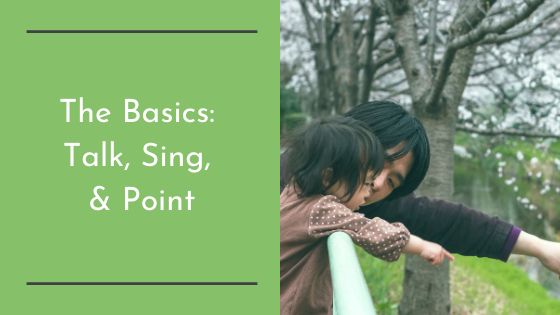 The Basics: Talk, Sing, & Point
The third in a series of articles on
The Basics: five FUN, SIMPLE and POWERFUL ways to give your child a great start
. This week's blog is written by Melissa Sullivan, marketing communications consultant and mom of three, on behalf of The Palmetto Basics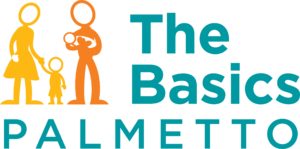 How do you Talk, Sing and Point with your child?
Remember Mother Goose? Sesame Street? Raffi? Use nursery rhymes or any other song you know to do this Basics! Did you know that 80% of brain growth happens in the first three years of life? Wow! That is pretty amazing, isn't it? Babies learn language from the moment they are born. When you
talk, sing and point
with your baby, you are providing important information to their brains about how language works. Respond to their sounds, and later, their words. Connect with eye contact and talk in a loving tone as you go about your day together. Talking, singing and pointing with your child teaches them about the world and helps you get to know the fascinating person they are becoming.
Talk:
Use a playful voice.
  Exaggerate the sounds of some words. Smile and look into their eyes. Point to help your child know what you are talking about.
Talk with your child – a lot!
  Turn every day routines into learning opportunities. Make up rhymes, or sing songs to your child as you change diapers or clothes, wash hands, or pick up toys.
Follow their interests.
  Talk about the things your baby looks at or reaches for. Notice which ways of talking or singing seem to interest them the most.
Listen and respond.
  Show your toddler that you are interested in what they have to say. Respond to their comments and questions.
Sing
What is your favorite song?:
Sing
your
favorite songs or make up new ones! The point is to sing and talk with your child, often. Tone of voice and expression are more important than the words. Try singing the same song whenever it's time for a special activity, such as bath time or getting ready for bed! Do you need some musical inspiration? Check out these artists: They Might be Giants, Jack Johnson, Ella Jenkins, Lori Berkner. There is a wide variety of children's music available today, and some of it is quite enjoyable. I admit to still having at least one of these CDs. Yes, I said "CDs"… my children were born before Alexa and music streaming services. Wherever you find your music today — iHeart Radio, Pandora, Apple Music, Spotify, Amazon, You Tube— there are many options for babies, toddlers, and older children.
Point:
Pointing to the things you talk about helps your child connect words with objects. Point to things as you say their names. Point to your child's eyes, nose, ears, and mouth as you get them dressed. Point to and label the objects your child shows interest in. When reading to your child, point to the pictures and call objects by name. Encourage your child to point at objects you name.
Here are some simple ways to do this Basic:
Newborn: FACT
  Your baby wants to connect with you. Have you noticed how they love to gaze at your face? When you talk or sing to them, they are learning about love and relationships.
TRY THIS:
Smile and look into their eyes.
Speak slowly, with a gentle voice.
Notice which ways of talking or singing seem to interest them most.
6 months: FACT
   Pointing to the things you talk about helps your baby connect words with objects.
TRY THIS:
Point to things as you say their names.
Point to your baby's eyes, nose, ears, and mouth as you get them dressed.
Point to and label the objects your baby shows interest in.
FACT
   These days, your baby's play probably involves things like throwing food and dropping objects from their high chair. This is their way of learning. But, you may find yourself saying "No!" or "Stop that!"
TRY THIS:
Try to make sure that most of what you say to your baby expresses kindness (this can be hard!).
Notice how your baby responds when you are more positive—can you tell the difference?
15 months: FACT   The more words your toddler hears from you
and others around them, the faster they learn.
TRY THIS:
Expand on what your child says by adding words. If they point and say "Doggie," respond, "That's the nice dog from next door." Or "Yes, that dog is brown and soft."
18 months: FACT
When you ask your child a question,
you show them that their ideas and opinions matter. Asking questions also builds their thinking skills.
TRY THIS:
Ask about "Who," "What," or "Why?" For example, "What's inside the box?" Show interest in your child's answers and try to keep the conversation going.
2-3 Years: FACT   Your toddler is naturally curious.
  Imagining and then answering fun questions together can help develop their thinking skills and creativity.
TRY This:
Make up some fun questions with your child. For example, "I wonder what would happen if animals could talk? What would dogs say?"
Be creative and have fun.
FACT  Your child may ask tons of questions.
When you ask a question back, you help them develop problem-solving skills and confidence.
TRY THIS:
Involve your child in answering their own questions. When they ask a question, respond, "Hmm, what do you think?" Listen and show that you value their ideas.
More Tips to Talk, Sing & Point
Helpful Highlight:
Each month, The Basics shares information about a local agency making a difference in the lives of Upstate children.
 PS I Love You Ministries
PS I Love You Ministries helps meet the physical needs of foster children from head to toe. Foster families visit at the arrival of a new placement, season change, or after a growth spurt of their current foster child/children. They provide clothes, shoes, baby equipment, toys, Bibles, books, and a care bag for each child. In 2019, the PS I Love You resource center provided for 440 children. At the end of July, 2020, the ministry had helped over 330 children in foster care! If you'd like to make a donation, or help with a clothing drive or event, please call 864-586-1611 or email (link:
psiloveyou685@gmail.com
) for more information. ———-
About The Basics
The Palmetto Basics was born out of a desire to come alongside families and offer practical, everyday ways to foster school readiness. The Palmetto Basics is a local affiliate of The Basics National Network.
Learn more today
!