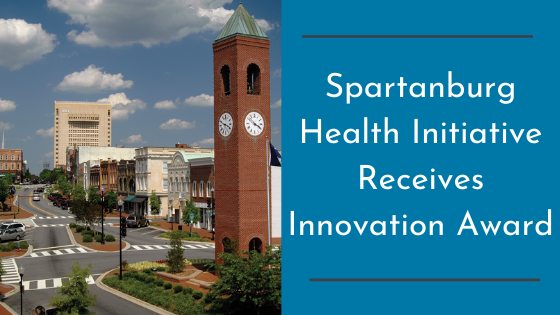 Spartanburg Health Initiative Receives Innovation Award
The Road to Better Health was awarded the Community Innovation Award by the Alliance for a Healthier South Carolina at the 2020 Live Healthy SC Annual Meeting.

The Road to Better Health (RTBH)
is a community collaborative that engages over 30 nonprofit and social service sector organizations to address seven focus areas: Health Equity, Behavioral Health, Substance Abuse, Dental Care, Access to Health, Birth Outcomes, and Obesity Prevention. Several key accomplishments in Spartanburg were highlighted at the 2020 Live Healthy SC:
A 66% decline in the teen birth rate in Spartanburg County since 2008.
A unique partnership with Spartanburg Regional Healthcare System to bring a dental residency program to Spartanburg, increasing access to high quality, low cost dental care for adults.
Thousands of teachers and school administrators trained in compassionate schools and trauma-informed practice to improve social and emotional learning.
Completion of a Community Health Needs Assessment that was informed by diverse voices and experiences throughout Spartanburg County.
A focus on health equity led to engagement with the Racial Equity Institute (Durham, NC) and over 200 people attending the REI Groundwater training. Due to the foundation laid by the Road to Better Health, a new coalition has formed – the Spartanburg Racial Equity Collaborative – which will release a strategic plan next month to advance racial equity.
The Alliance recognized the current co-chairs of the Road to Better Health, Page Rogers, with DHEC's Upstate Region, and Erica Rhodes, with Spartanburg Regional Healthcare System, while acknowledging the long list of individuals and community partners who have worked to create and sustain the community health efforts over the years. Looking ahead, as the Road to Better Health takes on the very important task of developing the Community Health Improvement Plan in 2021, it will be joining forces with Spartanburg's Way to Wellville, a local effort that is part of a national challenge to promote equitable well-being in communities. The power of these two collaborative efforts coming together will drive future innovation and amplify local successes. ­­­­­­­­­­­­­­­­­­­­_____________________________________________________________________________________ For more information about the Road to Better Health, visit
www.rtbhspartanburg.org/
and for more information about the Alliance for a Healthier SC and Live Healthy SC, go to
www.livehealthysc.org
.