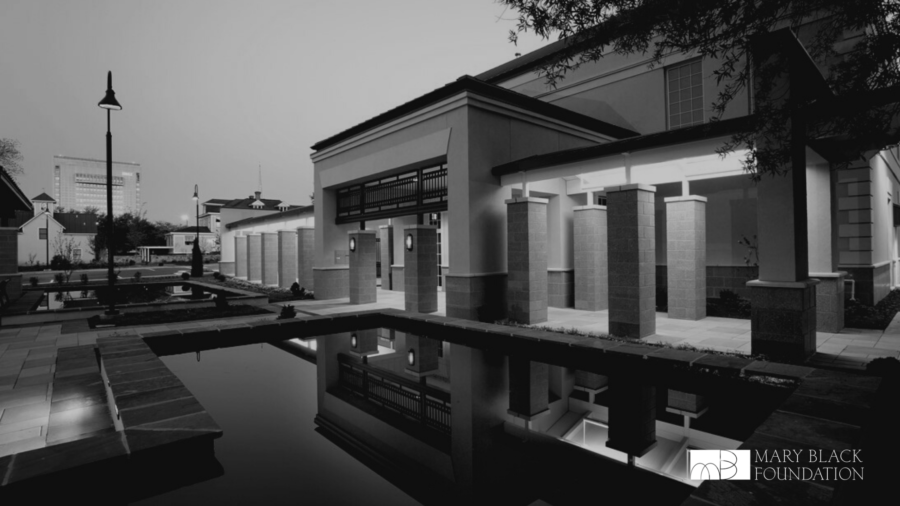 Celebrating Mary Black Foundation's History: 2010
Mary Black Foundation Becomes a Private Foundation
2021 marks the
25th anniversary of the Mary Black Foundation's role as a private foundation
 in Spartanburg. However, the Mary Black Foundation has a legacy that extends beyond the last 25 years. In fact, the Foundation was originally 
formed in 1986
– 35 years ago – to support the Mary Black Memorial Hospital and related community programs. The sale of the nonprofit hospital to a for profit company, in 1996, led to the reconfiguration of the Mary Black Foundation and its significant growth in assets. In the 25 years since the Mary Black Foundation 
separated from the hospital
, it has provided over 
$62 million
in grants to support health and wellness initiatives throughout Spartanburg County. During this same time, the assets have grown to over $75 million.
Spartanburg's Approach to Teen Pregnancy Prevention
This blog contains excerpts from a report titled: Spartanburg's Approach to Teen Pregnancy. To read the full report, click here. 

2010 marked the beginning of Spartanburg receiving federal funding to prevent teen pregnancy. However, efforts to prevent teen pregnancy in Spartanburg date back to the year 2000. Data from the Spartanburg Community Indicators Project—a report on the key indicators of quality of life in the county—established an obvious link between teen pregnancy and issues such as poor birth outcomes, education, and poverty. This truth captured the attention of leaders and philanthropists in the community who encouraged and supported further action. While data and community interest are important, they alone cannot solve problems without funding to support purposeful and strategic initiatives. In Spartanburg, this funding came from a unique partnership of four foundations: Mary Black Foundation,
Spartanburg County Foundation
,
Spartanburg Regional Foundation
, and
United Way of the Piedmont
(the Spartanburg Joint Funders), that came together to make an intentional investment in the issue. Initial investments by the Joint Funders supported the work of the South Carolina Campaign to Prevent Teen Pregnancy (now
Fact Forward
), which conducted community assessments, hired staff, assisted in the identification of funding needs, and ultimately provided oversight of efforts in Spartanburg County. This partnership eventually led to Spartanburg being one of two counties in the state that were part of a joint federal grant focused on community-wide teen pregnancy prevention initiatives between 2010 and 2015. From 2008-2020, these funders directly invested over $700,000 in the efforts and helped to leverage over $7 million in federal grants to enhance our local efforts—a true public/private collaboration.
Connect
One of the federal grants, managed by the Mary Black Foundation (2015-2020), led to the creation of the Connect initiative.
Connect promotes adolescent friendly services, supports, and opportunities
throughout Spartanburg County. Fueled by a Community Advisory Board of over 30 organizations and a group of Youth Ambassadors, Connect has taken teen pregnancy prevention efforts in Spartanburg County to a new level. As the first federal grant was ending, the Mary Black Foundation stepped forward to apply for additional federal funds to strengthen the work. Efforts to prevent teen pregnancy fit squarely under the Foundation's existing investment in early childhood development. This alignment with mission, combined with a high level of community readiness and capacity, positioned the Foundation—and community—to be successful in attracting a federal investment. In July 2015, the Foundation was one of 84 grantees across the country funded by the Office of Adolescent Health (now Office of Population Affairs). A five-year, $5.3 million grant supported the development and creation of the Connect initiative. Connect was established to promote adolescent friendly services, supports, and opportunities throughout Spartanburg, but especially among youth experiencing the greatest inequities, with the goal to improve overall adolescent health.
Sustainability
Like all effective community health collaboratives, the teen pregnancy prevention work in Spartanburg continues to evolve to meet the needs of youth and build on strengths of the community. By keeping a long-term commitment to the issue and prioritizing the collaborative, multifaceted approach, Spartanburg will continue to see success in preventing teen pregnancy and ensuring holistic adolescent health. In 2020, Spartanburg Regional Foundation received a federal grant to continue the adolescent health work of Connect. Connect Project Director Polly Edwards-Padgett said:
…taking programs that maybe were successful on their own but can be that much more impactful together. I think that will be one of the greatest legacies of Connect.
The Success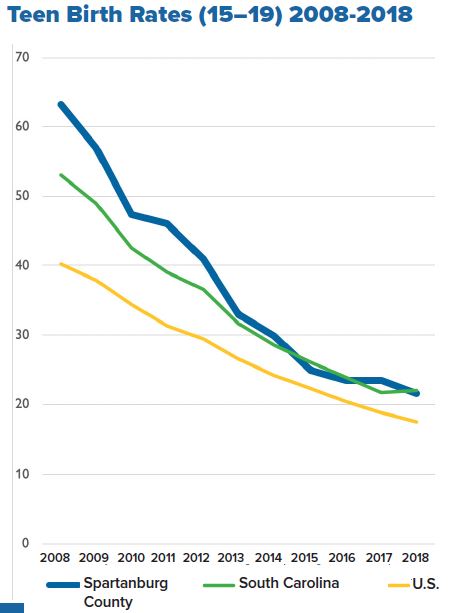 Since its peak in 1991, the teen birth rate in the U.S.—and in South Carolina and Spartanburg—has decreased upwards of 70%. However, this well-documented progress in reducing teen birth rates across the country has masked the fact that in some communities and populations there are still very high rates. Spartanburg County is a perfect example of a community that saw decreases in the teen birth rate throughout the 90s and early 2000s, but still lagged behind state and national declines. That is, until intensive and focused work began in 2008. Since 2008, decreases in the teen birth rate in Spartanburg County have outpaced decreases at the state and national level. Progress on such a complex issue does not happen by chance. It requires leadership, vision, and strong collaboration—all things highlighted throughout this report. The success story in Spartanburg shows what a community can do when it stays committed to an issue for the long-term and understands where and how to concentrate its efforts and resources. The community has also benefited from Connect's laser focus on health inequities. While taking a universal approach through school-based interventions to all youth in Spartanburg County, considerable effort was made to ensure youth who were at highest risk and most vulnerable for experiencing teen pregnancies received the targeted and more intensive services they needed.