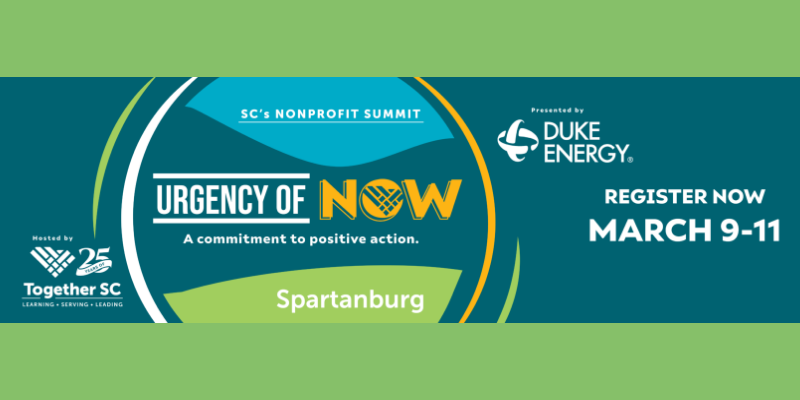 Together SC's 2022 Nonprofit Summit
The 2022 SC Nonprofit Summit is hosted by Together SC and is the state's largest and most comprehensive conference for nonprofit professionals. Designed by nonprofit leaders for nonprofit leaders, the Nonprofit Summit has something for just about everyone on your team!
History
In 1997, Together SC (known then as South Carolina Association of Nonprofit Organizations (SCANPO) began operating with 67 chartered member organizations, providing regional meetings and workshops. One year later, a toll-free hotline was created to offer timely assistance to the growing membership.
Over the next 25 years, Together SC expanded their diverse network, strengthened the state's nonprofit community and brought together leaders from organizations who believe in Together SC's vision to have a united, trusted, and effective nonprofit community working to enrich the lives of all South Carolinians.
Why Urgency of Now?
Inspired by Together SC's mission of strengthening, uniting, and advancing South Carolina's nonprofit and philanthropic community, the 2022 Nonprofit Summit: Urgency of Now, will be hosted in Spartanburg, SC offering a series of engaging in-person events for nonprofit CEOs, staff members, grantmakers and volunteer leaders.
The Urgency of Now theme is reflective of this time of change in which we are living – now more than ever, we understand how precious time is and that we cannot afford to waste it. If we are to successfully build a vibrant, equitable South Carolina, our work is urgent and we must focus on the importance of action and implementation.
inspired by the quote from Martin Luther King, Jr. who used this phrase in several speeches, including the March on Washington and an address to Riverside Church regarding the Vietnam War:
We are now faced with the fact that tomorrow is today. We are confronted with the fierce urgency of now. In this unfolding conundrum of life and history, there "is" such a thing as being too late. This is no time for apathy or complacency. This is a time for vigorous and positive action.
Through a CEO/Board Leadership Forum, informative half-day workshops, and engaging networking events, the 2022 Summit will offer attendees a chance to convene safely as they learn from one another, build resources, and acquire tools. Our time together will inspire a commitment to positive action as individuals, within our organizations and across South Carolina's communities.
CEO|Board Forum
March 9th
Audience: CEOs, EDs, Board Members
Includes: Site Visit, Lunch, Afternoon Program & Breakouts, and Forum Reception
$150/person (Member Rate)
$250/person (Not-Yet-Member Rate)
Peer Network Forum
March 10th and 11th
Audience: CEOs, Nonprofit Staff, Board Members, Grantmakers, Consultants and Other Allies
Includes: Opening Plenary, Two – ½ Day Workshops, Celebrate Together SC Reception, ½ Day Peer Gathering, 2 Breakfasts and Closing Plenary
$250/person (Member Rate)
$350/person (Not-Yet-Member Rate)
Combined Registration
March 9th, 10th, and 11th
Audience: CEOs, EDs, Board Members Only
Includes: all the features under CEO/Board Leadership Forum and Peer Network Forum
$350/person (Member Rate)
$450/per person (Not-Yet-Member Rate)
COVID Policies
While Together SC is so excited to offer the first in-person gathering in two years, rest assured that they are taking every precaution to ensure your health and safety. They will be following strict Covid protocols. All indoor events will be set up utilizing social distancing guidelines.
As you might expect, the capacity at the 2022 Summit will be much less than in years past. We are planning for 400 attendees as compared to the more than 700 that attended previous Summits. Be sure to register early to ensure your space at this engaging and action-oriented gathering of your colleagues from across South Carolina.
Registration
Registration for the 2022 SC Nonprofit Summit presented by Duke Energy is open to Together SC members and non-members. Click the button below to register today!