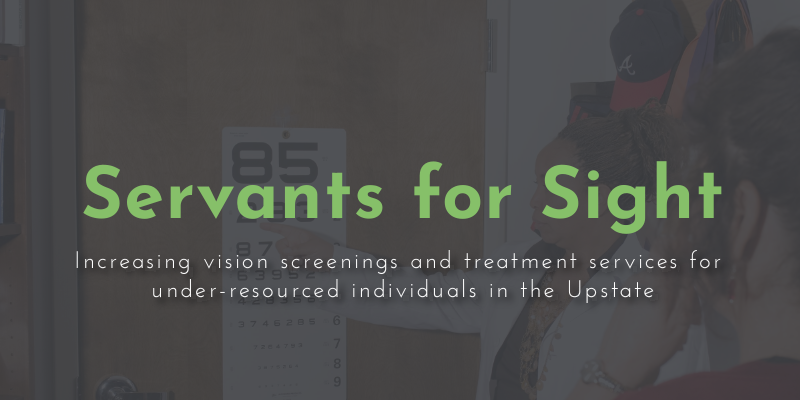 Servants for Sight
Servants for Sight was founded in 2009 with a mission to help disadvantaged people, both locally and abroad, get the eye care they need to lead productive lives.  They partner with local agencies such as medical clinics, food banks, and churches to reach the low income, homeless, and uninsured in the Upstate of South Carolina.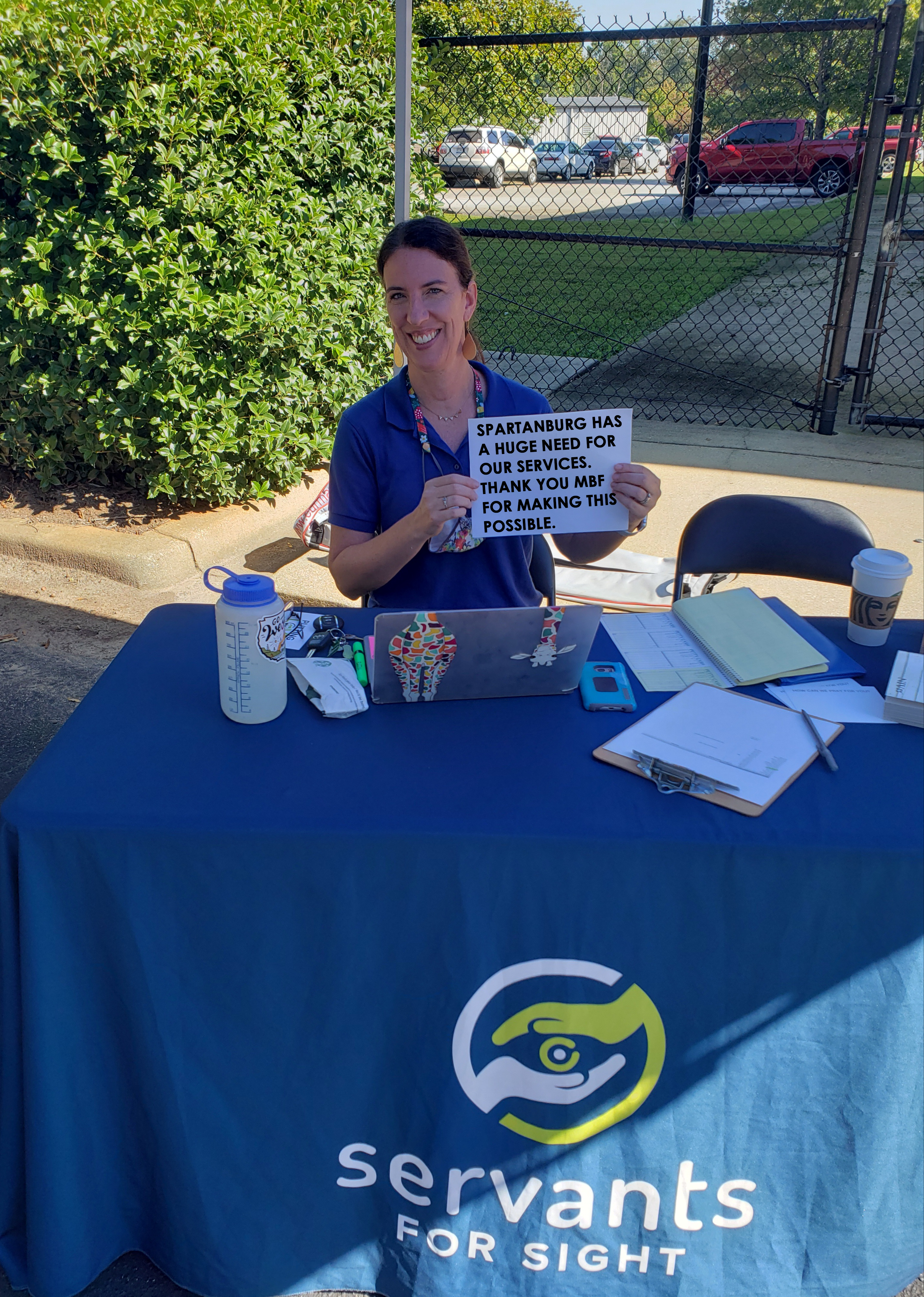 Services Provided
Vision Screenings
Servants for Sight organizes vision screenings at local agencies. At these screenings, we provide distance and near vision tests, educate on eye health, provide reading glasses and organize follow up care through Servants for Sight.
The Vision Van
Servants for Sight launched the Vision Van in March of 2015.  The Vision Van features equipment to test visual acuity as well as take photos of the back of the eye with a fundus camera. The images from this camera are used to detect signs of diabetic retinopathy, glaucoma and macular degeneration.
Eyeglasses, Surgery, and Medical Treatment
If deemed necessary, Servants for Sight provides the necessary care to restore sight. Eyeglasses, surgery and/or medical treatment are provided for those in need of them.
Partnership with Mary Black Foundation
In 2021 Mary Black Foundation awarded Servants for Sight $13,000 through the Community Health Fund to expand services in Spartanburg County.
With this funding, since September of 2021 they have been able to serve nearly 200 Spartanburg adults. In addition, they have been able to partner with new physicians to help increase the availability of services locally.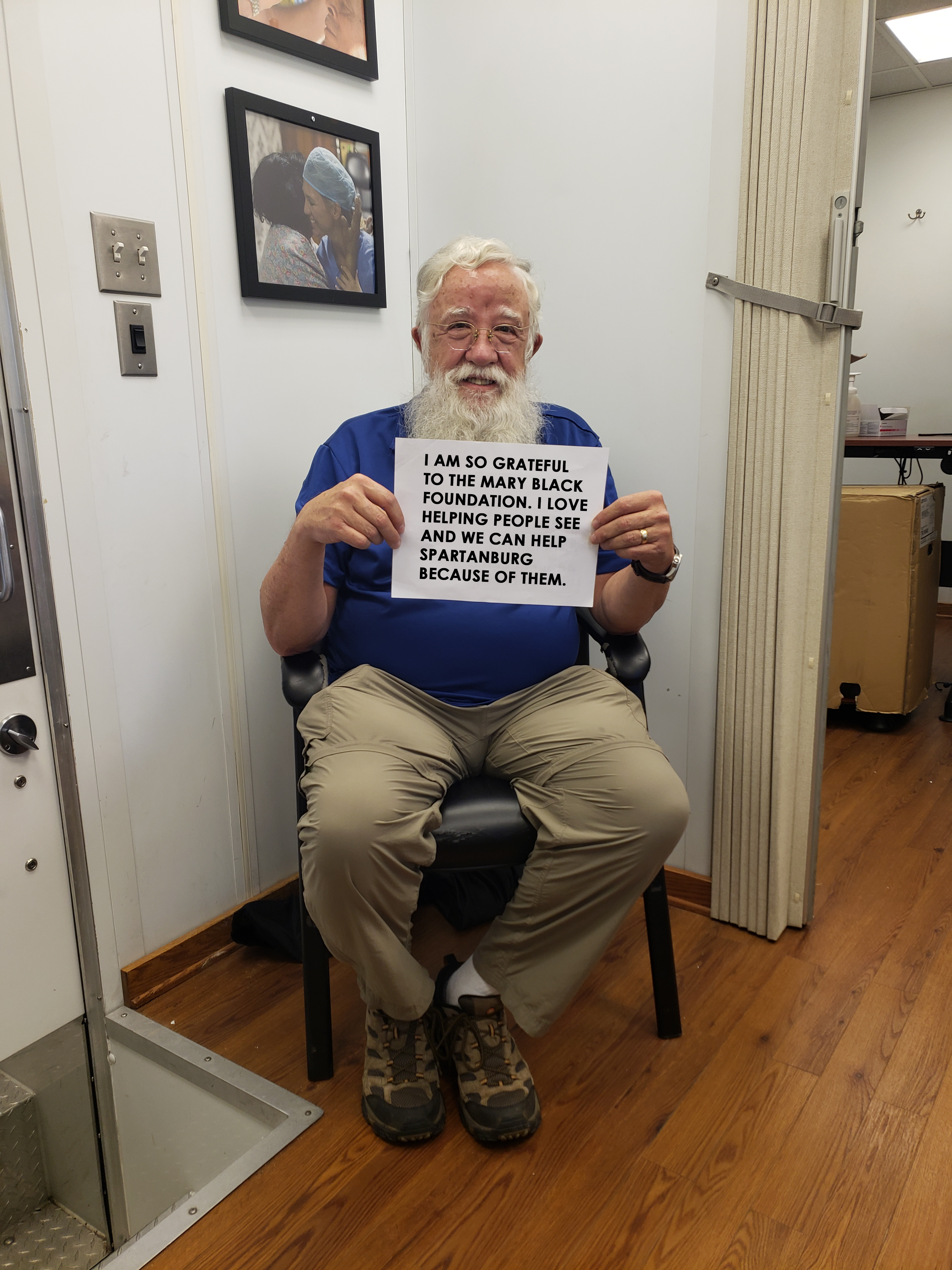 Health Equity
Achieving health equity is a data-driven, reflective, and ongoing process that requires integrity, transparency, and accountability to understand the structures and systems that produce inequities. The Foundation will deepen our understanding of how community needs differ and then invest in community-specific resources. Residents of Spartanburg County deserve opportunities to participate, prosper, and achieve maximum health and wellness.
To advance health equity, Spartanburg will need to ensure it has: (1) high quality education & employment, (2) safe & supportive neighborhoods, and (3) accessible, affordable, & culturally relevant healthcare.
The work of Servants for Sight falls in the Accessible, Affordable, and Culturally Relevant Healthcare bucket of the framework.
Accessible, Affordable, & Culturally Relevant Healthcare
Health Equity Framework
The work of Servants for Sight falls in the Screening, Prevention, & Treatment sub-categories of the Accessible, Affordable, & Culturally Relevant Healthcare bucket.