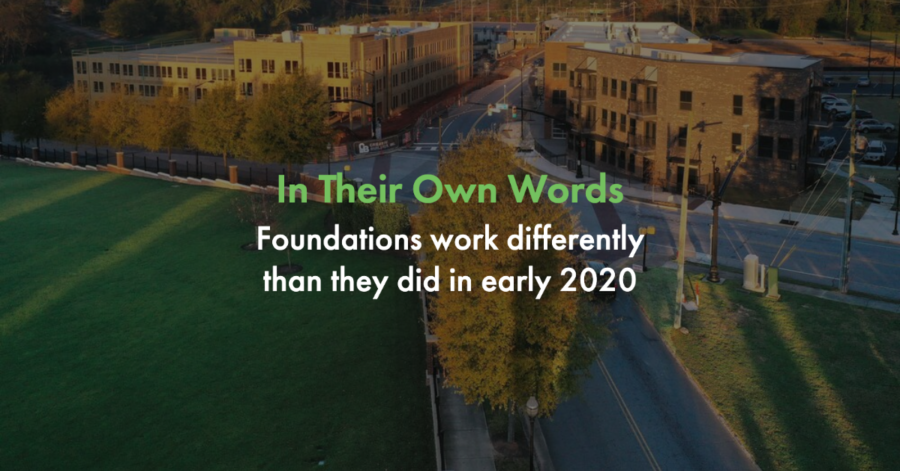 In a series of posts on the CEP blog in winter 2022, leaders from eight foundations shared — in their own words — the most important changes they have made at their foundation since 2020 that they plan to sustain going forward. This series shares these funders' stories in their entirety. It is our hope that the changes described here foster learning and inspire further action.
For years, foundation leaders have known that they could be working differently and in ways that they believe would lead to greater impact. Calls for changes in practice have come for decades, too, from many philanthropic and nonprofit leaders who have asked funders to, for example, provide more flexible and unrestricted funding; streamline and simplify processes; listen to, trust, and support their grantees; and pursue racial equity and racial justice.
But there had been little evidence of change until the spring of 2020, when many foundations shifted their practices as the scale of the COVID-19 crisis became clear.
As described in CEP's recently released research report, Foundations Respond to Crisis: Lasting Change?, foundation leaders report that their foundations are now working differently than they were in early 2020 — and that they plan to continue most of these changes in a post-pandemic future. Among these changes are a reduction in administrative burdens for grantees, including grant application and reporting requirements, increased unrestricted funding, and new efforts to advance racial equity.
This is not to suggest, obviously, that challenges do not remain. The data reveals continued shifts in practice but it also reveals disconnects, barriers, and additional opportunities for further change — and foundation leaders themselves are quick to acknowledge they still have a lot of work to do.
To foster learning and inspire further action, this series shares examples of how eight foundations — across a range of foundation types, sizes, approaches, and geographies — have made and are making change. In the following pages, foundation leaders, in their own words, respond to the following question: Since early 2020, what is one of the most important changes that you made at your foundation that you plan to sustain going forward, and why?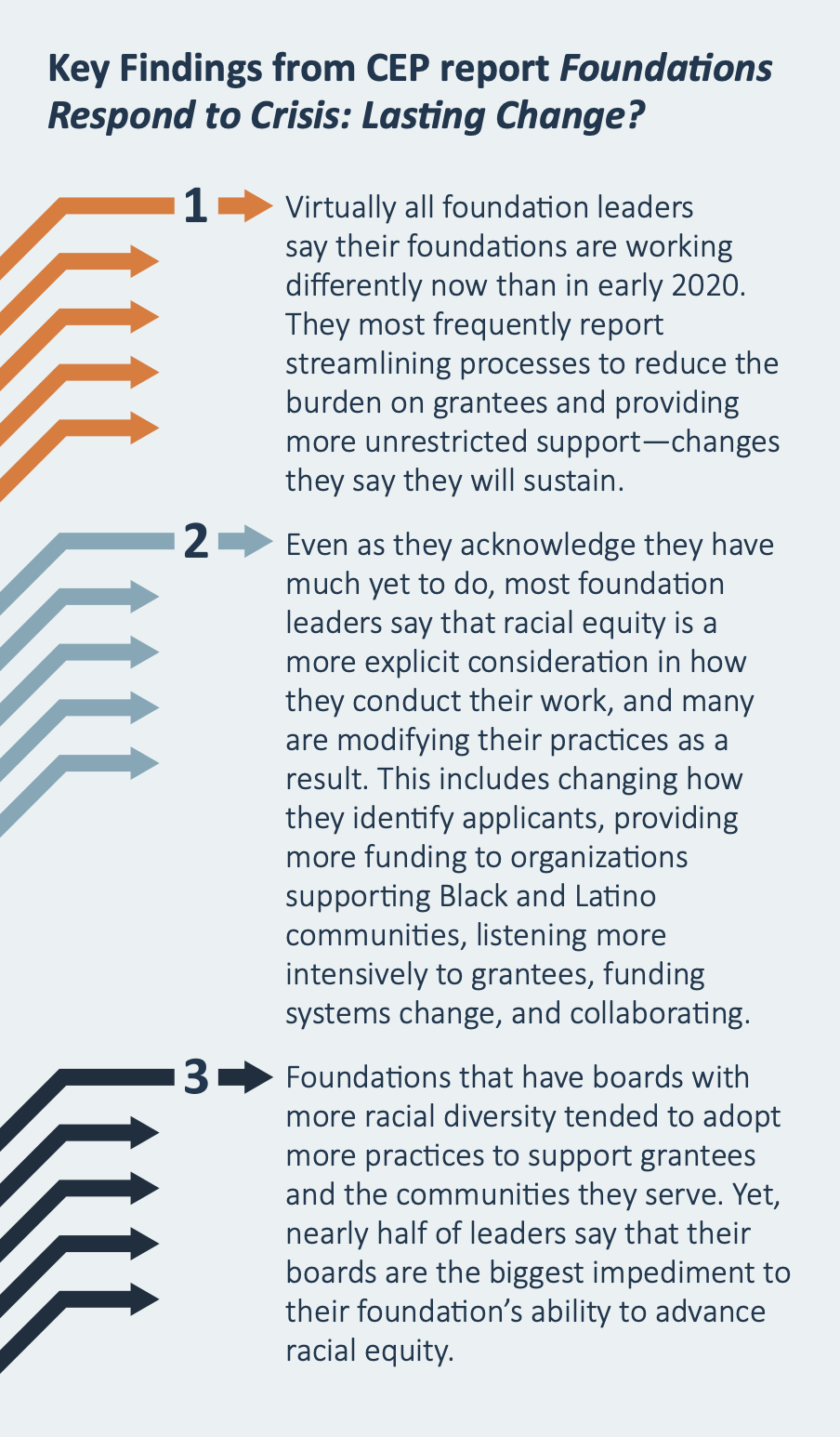 Mary Black Foundation
Like many Foundations, we responded to the Call to Action issued by the Council on Foundations that encouraged philanthropy to make changes that would support our nonprofit partners during the COVID-19 pandemic.
The Mary Black Foundation implemented many changes to meet the commitments in the pledge, including:
ƒ  Loosening or eliminating restrictions on current grants
ƒ  Making new grants unrestricted
ƒ  Reducing/postponing reporting requirements & site visits
ƒ  Contributing to community-based emergency response funds
ƒ  Communicating proactively and regularly with nonprofit partners
ƒ  Committing to listening to partners to inform decision making
ƒ  Supporting grants advocating for public policy change
ƒ  Considering making some or all of these emergency practices permanent
Prior to March 2020, many of our grants were already general operating support. However, in response to the pandemic, we converted those that were not to unrestricted grants, including grants that were for events that had to
be cancelled. We listened to our nonprofit partners and increased our giving to exceed our annual payout amount in order to support basic needs, growing mental health concerns, and healthcare and education gaps that widened due to the pandemic.
We listened to the needs voiced by our partners, but we also paid attention to who we weren't hearing from. After reviewing grant requests, our team of staff asked ourselves, "Who did not submit a request for funding?" In many cases, nonprofit leaders were too busy addressing the immediate needs of their organization and/or the people they serve to take the time to ask for help. These tended to be smaller organizations that provide direct services to historically disadvantaged communities. In those cases, we provided unsolicited, general operating support grants.
We also sped up our grantmaking process and pivoted from our usual grantmaking focus to address immediate needs. For example, we used a rapid response grant to fund a COVID relief effort established by the local United Way to assist people most impacted by the health, social, and economic impacts of the pandemic with basic needs like food and shelter. We also contributed to a small business recovery fund that provided forgivable loans to
small businesses that were not eligible or did not have the capacity to apply for the Paycheck Protection Program and other federal relief. Many of these businesses were woman- or minority-owned.
As a local funder serving one county in South Carolina, we have deep partnerships with our funded organizations. In some cases, we have been working together for 25 years. We rely heavily on check-ins and site visits as a way to build relationship with and listen to our nonprofit partners. While we paused all site visits for most of 2020, one of the most important things we did during the height of the pandemic was to check-in on the wellbeing of our partners. We wanted to hear not only what we as a funder could do to support their organizations, but also how their teams were doing as individual people living and working through a pandemic. Based on their responses, we began offering Caring Conversations, facilitated virtual self-care sessions open to all nonprofit and social service sector staff members.
We listened to the needs voiced by our partners, but we also paid attention to who we weren't hearing from.
I'm proud of the way the board of trustees and staff of the Mary Black Foundation have supported our community through the pandemic. While these changes — and many more — were put in place during a crisis, the value we have seen has led to their becoming permanent changes in our practice.
Molly Talbot-Metz, MPH, President/CEO