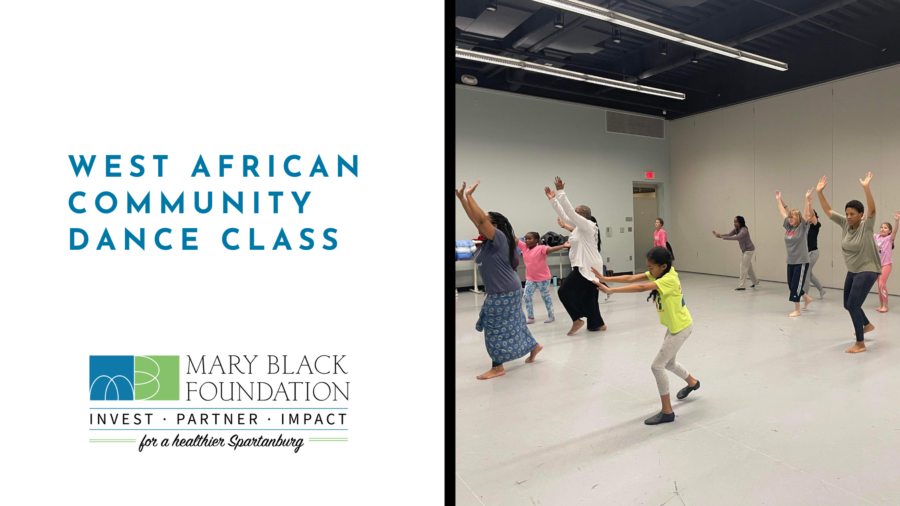 Ballet Spartanburg's West African Dance – A Community Class for Spartanburg
Written by: Teresa Berline, Executive Director of Ballet Spartanburg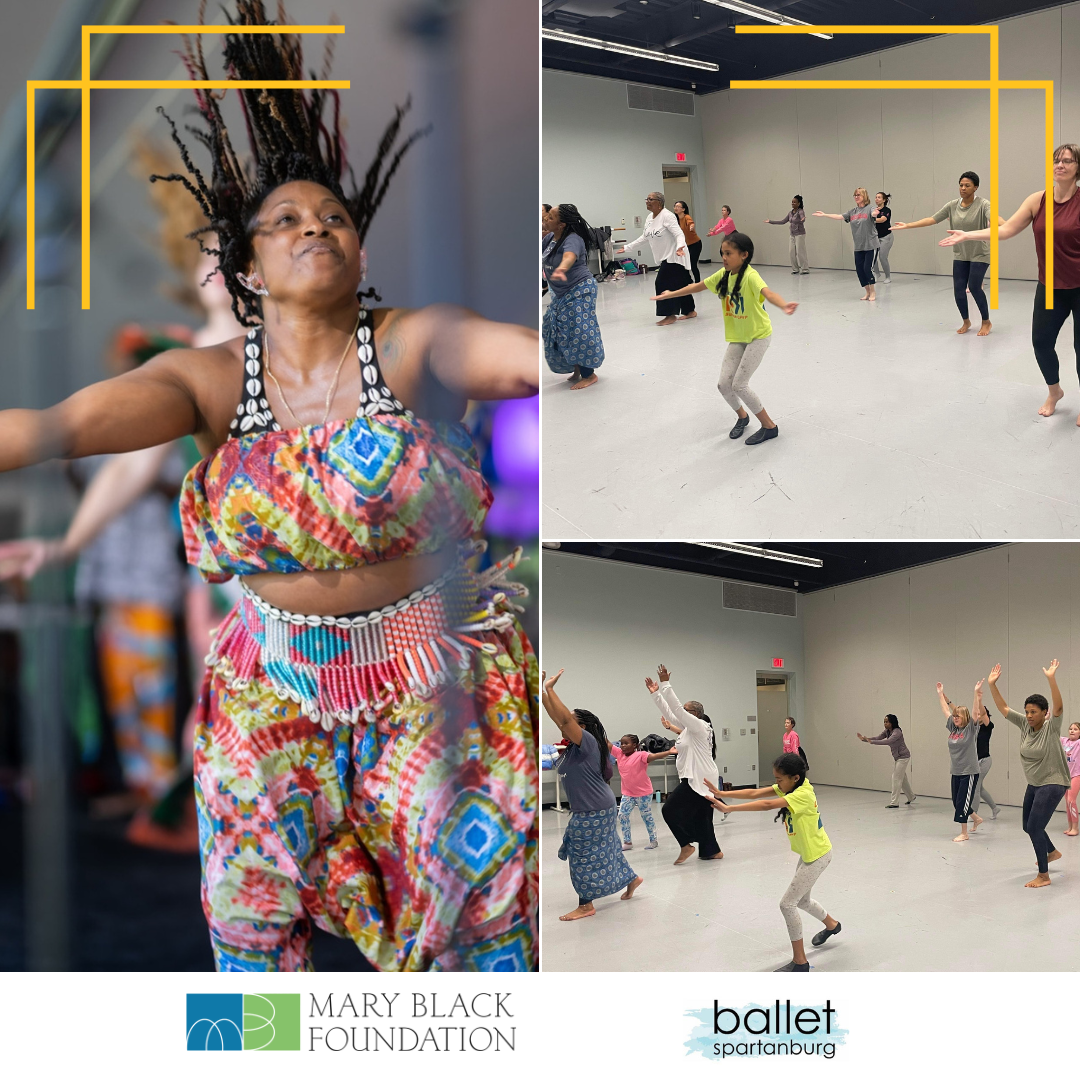 When: Tuesdays at 6:30-7:30
Where: Ballet Spartanburg | 200 E St John St, Spartanburg
Who: Open to ALL
Cost: Free for all participants
Registration: click HERE
Ballet Spartanburg began this project to engage, enrich and educate participants by providing West African dance classes at the Ballet Spartanburg's Center for Dance Education. Generously supported by a grant from Mary Black Foundation, there is no charge to participate in the classes.
West African dance is a way to bring people of all walks of life together, no matter the socio-economic level, gender, race or neighborhood. African dance is a cultural style that is woven into the fabric of the community. The West African cultural dances are diverse and numerous. Dance in West Africa serves as a way to educate people in the traditions of the culture and in the values of the community.
West African dance tells a story as it communicates through movement. This sense of storytelling through dance is valuable and is an influence in bringing people of all backgrounds together to build a sense of community in Spartanburg. It has been the goal of this class to introduce people of various communities in Spartanburg to the cultural traditions of West African dance. Since the first classes in 2018, many youth and adult students from our community have come together to celebrate through dance.
There is no age limit or physical requirement for participation in the classes. All generations and ability-levels are welcome to attend and participate. Regular attendance enables dancers to perfect technique in the genre, experience the joy of moving with others and participate in cardiovascular exercise, which reduces stress, blood pressure and anxiety. Dancers develop community and empathy for others, which is an additional benefit to moving in tandem with others.
When folks attend these classes, they experience:
Increased visibility of West African dance in the community
Stronger relationships between neighborhoods in the community at large
Stronger relationships between individuals participating in the classes
Increased physical activity through participation in the classes
Increased opportunities for live dance and live music in the community
The weekly, hour-long classes in West African dance are taught by Miss Angie Alderson Gibson at Ballet Spartanburg's Center for Dance Education. She has extensive experience in this genre of cultural dance. She began dancing at the age of four and attended the School for Creative and Performing Arts studying dance, vocal performance, visual art and creative writing. She is trained in ballet, jazz, modern, tap dance, hip-hop and African dance.  Miss Angie enjoys teaching choreography, African dance and African culture as well as hip-hop. Before moving to SC from Colorado, Angie founded a hip-hop dance company taking on many different hats including choreographer, manager of artistic development and costume designer. She served as the Assistant Artistic Director of an African dance company where she taught African dance, choreographed, designed costumes and organized the stage productions including the music elements of the productions.
Experienced drummers, lead with competence and skill by drummer, Page Rogers, provide live music for the classes. She was introduced to West African drumming through a 2009 conference in Greenville called Cancer as a Turning Point, From Surviving to Thriving.  Shortly thereafter she joined a local Greenville West African Drumming group and found it be very therapeutic as she maneuvered her own breast cancer journey.   She continued drumming with the Greenville group, and in 2015, completed a 2 year Drum Instructors' training program with the Winston-Salem branch of the world renowned international school of West African drumming, Tam Tam Mandingue.  Page has facilitated beginner drumming classes and in 2017, helped obtain djembe drums for students at Cleveland Leadership Academy.  After serving SCDHEC as a Community Health Educator for Spartanburg, Cherokee and Union counties, Miss Page is nearing retirement. She looks forward to continuing to build community through the healing power of movement and music. Drumming adds a contextual educational arts element to the classes. Having live drummers enhances the community building aspect of the class.
West African dance class meets every Tuesday from 6:30-7:30 PM in Studio 2 at Ballet Spartanburg's Center for Dance Education. Come to class and dance with us! Prepare to have fun as you learn a new skill, make new friends and experience the joy of dancing with others. See you there!