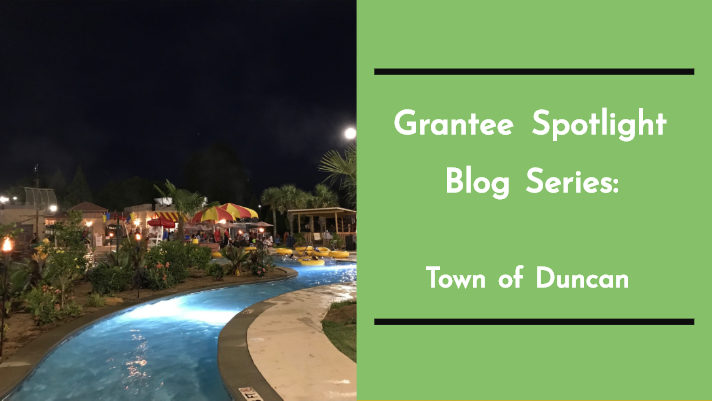 Grantee Spotlight Blog Series: Town of Duncan
This week's blog is written by Elizabeth Hardee, Grant Writer, Town of Duncan
Para leer en español, haga clic
aquí
.
Funding for Healthy Eating | Active Living
The
Town of Duncan
is pleased to announce they are a 2019 recipient of a Healthy Eating | Active Living grant from
Mary Black Foundation
entitled, "Healing the Town of Duncan."
Healing the Town of Duncan
This grant funding will be used to hire a full time Recreation Coordinator that will oversee community events, the Duncan Event Center, coordinate the Duncan Volunteer Program, and assist with Risk Prevention Days. Funding will also be used to create a community garden that will provide fresh produce for Duncan community members. The community garden volunteers will be issued a free pass for every 5 hours that is volunteered in the garden. All produce can be harvested & eaten by community members. There will also be Farmers Markets held at Stoneledge Park. If you are interested in volunteering contact Patrick Elliot by emailing
pelliot@townofduncansc.com.
Active Living Opportunities
The Town of Duncan has excellent & free community events year round that are aimed at getting Duncan residents active, involved in healthy behaviors, celebrating the Town of Duncan. The first event was The Beach Bash on 6/14/19 that had "The Shag Doctors" where Duncan residents swam & danced the night away with over 450 people in attendance. Another wonderful event is on 7/5/19 where community members celebrate America with "Red, White & Boom" complete with fireworks, activities & an opportunity to learn about various upcoming Duncan events, programs and celebrations.
Partnerships
Last but not least the Town of Duncan is partnering with Middle Tyger YMCA to offer   "T2 Diabetes Prevention Program." This program is for anyone that is diagnosed as pre- diabetic with Type 2 Diabetes and has proven success with preventing Diabetes. If you are interested in joining the "T2 Diabetes Prevention Program" please contact Ken Bailey at Middle Tyger YMCA by emailing
kbailey@spartanburgymca.org.