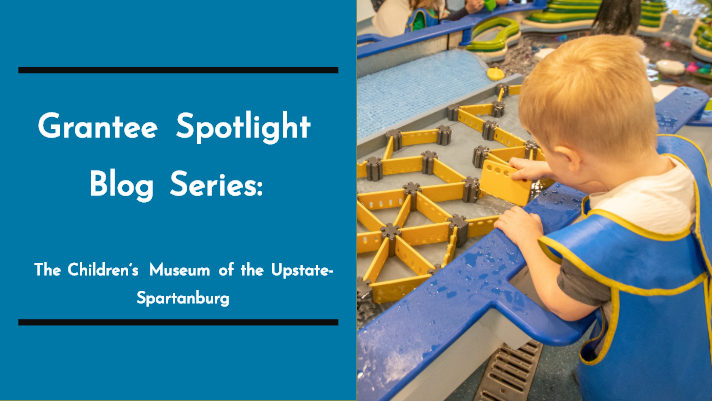 Grantee Spotlight Blog Series: The Children's Museum of the Upstate- Spartanburg
This week's blog is written by Emily Sobeski, Director of Marketing and Design, The Children's Museum of the Upstate
The Children's Museum of the Upstate- Spartanburg is a 2019 Grantee of the Mary Black Foundation in the focus area of
Early Childhood Development
.
The Children's Museum of the Upstate- Spartanburg Mission
The Children's Museum of the Upstate sparks a lifelong passion for curiosity and learning through play. TCMU-Spartanburg is a hands-on, interactive museum, focused on early childhood development. Located in Downtown Spartanburg, just blocks from Morgan Square, TCMU-S is specifically designed to meet the developmental, social, and environmental needs of children ages birth to five and their caregivers. This age group is so crucial because experts tell us that eighty percent of brain development happens in the first three years of life! Visiting The Children's Museum with a young child is the perfect opportunity to practice essential developmental milestones like talking, pointing, grouping, reading, and more. By laying a foundation starting from birth, children are off to a solid start when they enter kindergarten.
Programs and Events
Thanks to a generous grant from the Mary Black Foundation, TCMU-S has been able to hold several exciting events for the Spartanburg community.
Maker Fest
, held on February 23, 2019, invited children to participate in interactive demonstrations, special programming, and more with makers from the Spartanburg community. Guest makers included painters, guitarists, ribbon weavers, and more. Through the process of making, children are able to learn by creating something new, taking risks, trying, failing, and solving problems. By interacting with makers from the Upstate, children can apply these skills to real world applications and imagine themselves in future roles as contributors to their communities. Another event,
Mess Fest
, was held on May 4, 2019. A crowd-favorite, the event encouraged kids to celebrate the art of making a mess using gel paints and creating Jackson Pollock paintings. Open art experiences like these encourage children to use their creativity and self-expression. Children also participated in hands-on bubble play and messy science experiments that brought chemistry and math to life. During the summer months, children have been able to enjoy
multiple day camps
that integrate STEAM (Science, Technology, Engineering, Art, and Math) concepts at an age appropriate level for 4 & 5 year olds. Themes centered on careers can help children make sense of how they see the real world around them. During
Construction in Action
camp, campers participated in building challenges and applied art concepts to the science of construction. During
LEGO Engineers
camp, children participated in self-led LEGO building challenges to build problem-solving and critical thinking skills. Once a month, TCMU-S provides
Sensory Friendly Museum Days
, which are designed for children with special sensory needs, sensory processing differences, and other special needs. During these days, they can explore the museum, partake in adapted programming, and engage with staff in an inclusive and comfortable environment. This year's earlier dates included special guest therapy dogs that joined museum visitors for Story Time and More. Sensory Friendly Days will return this fall, with one scheduled each month from August–November.
Accessibility and Scholarships
Thanks to the Mary Black Foundation's funding, TCMU-S is able to offer museum visits for children who need financial assistance. Museum scholarships are provided to school groups who want to visit the museum on a field trip. Scholarships are available for pre-K and kindergarten classes on the basis of their schools' poverty index (the percentage of students receiving free or reduced lunch). TCMU was also able to implement a new program, Museums for All, this February that provides reduced admission to families who receive financial assistance through the SNAP program. All of these events and opportunities would not be possible without the support from the Mary Black Foundation. We are thankful for the support!
Come Play with Us!
So far in 2019, TCMU-S has welcomed 21,288 visitors…and more are coming to learn and play with us every day! The Children's Museum of the Upstate is a safe and inviting place where families from all backgrounds can come engage in play, practice curiosity, and stir imagination. We hope that our environment encourages parents, grandparents, and caregivers to observe what interests their child, spend time exploring how they learn, and take time to bond through quality time. TCMU-S has several events and programs planned for the remainder of 2019. Be sure to check out our calendar to stay up to date!
http://spartanburg.tcmupstate.org/calendar-2/