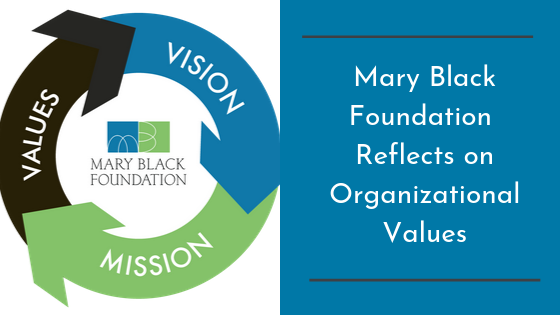 Mary Black Foundation Reflects on Organizational Values
Today's blog is written by Molly Talbot-Metz, the Mary Black Foundation's President/CEO.  She recently reflected on the Foundation's stated values and how our values are demonstrated through the work we do every day in the community.
Organizational Values
There are lots of definitions of "organizational values," but, essentially, they are the stated ideals for which an organization stands. I like the definition put forth by Patrick Jinks in his book,
"Strategic Fail: Why Nonprofit Strategic Planning Fails & How to Fix it."
  Patrick says that an organization's values are its rules:
the foundational core upon which an organization operates, the boundaries by which it abides, and the guiding principles that influence the culture of the organization.
That definition challenges organizational leaders to ensure that the stated values are more than a bunch of nice sounding words listed on the website.  The Mary Black Foundation's staff and Board of Trustees strive to make sure that all we do is aligned with
our values
(ICARE):
Impact: Our results improve and transform people's lives.
Collaboration: We connect with others to make our community stronger.
Accountability: We are responsible stewards of the Foundation's assets.
Respect:  We are open, inclusive, and caring.
Equity: We believe all people should have the opportunity to succeed.
Mary Black Foundation's Value's in Action
There is no doubt that the work of the Mary Black Foundation has
impact
.  Since 1996, when the Foundation was configured as an independent grant making organization, we have granted more than $54 million dollars to support people and communities in Spartanburg County.  The resources have generated places where people can be physically active or access fresh and affordable food, they have provided high quality early learning experiences for our youngest residents, they have created positive youth development activities, and they have improved opportunities for countless people in our community. Core to our work at the Foundation is the strong belief that all people should have the opportunity to succeed.  Unfortunately, local data tells us that there are many disparities in health outcomes.  In fact, in less than 5 miles in the City of Spartanburg, there is a 17 year gap in life expectancy.  We don't believe that a person's zip code should determine how well or how long he or she lives and that is why we are working to achieve health
equity
. We strive to work in a
collaborative
and
respectful
way.  Representatives from the Foundation sit at the table alongside a variety of community partners.  We inform our work through the
Spartanburg Community Indicators Project
, the
Road to Better Health
and the
Way to Wellville
, the
Spartanburg Hispanic Alliance
,
OneSpartanburg
, and other community collaboratives.  Our desire for collaboration is rooted in the knowledge that the Foundation cannot do this work alone and that we will have greater impact when we approach the work together. The Mary Black Foundation's staff and Board of Trustees are ultimately
accountable
to the residents of Spartanburg County.  We have been entrusted with a tremendous asset and we take the responsibility of using the assets to improve the health and wellness of Spartanburg County very seriously. Over the next few months, the Mary Black Foundation will be engaged in strategic planning for the upcoming 3-5 years.  Our values remain a steady force that guide long-term planning, inform our day to day activities, and keep us grounded in why we do the work we do.