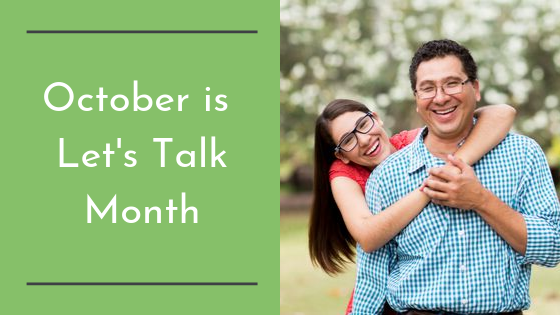 October is Let's Talk Month
Today's blog is written by Keisha Gray, Program Director, Early Childhood Development at Mary Black Foundation
October is Let's Talk Month
Even into early adulthood, young people want to hear from their parents or other trusted, experienced adults about love, sex, and relationships. Every October, organizations across the country participate in the national public awareness campaign,
Let's Talk Month
, to promote healthy conversations between adult caregivers and the youth and young adults in their lives. Open communication helps young people make wiser decisions that shape their long-term success.
Why it's Important to Talk
Young people who may be expecting or parenting, often need additional supports to successfully navigate their added responsibilities. When adults are equipped with the knowledge needed to help expectant or parenting youth during this critical time, the positive impact is reflected in the healthy development of both the young parent and their child. Pregnant and Parenting youth and young adults often are balancing their lives and being a parent. Ensuring that young parents receive adequate social and emotional, medical, and academic support is essential to the parent and the baby's future.
Local Resources for Talking with Expecting or Parenting Teens
Locally, there are two organizations focused on ensuring the success of young parents across the county. Whether it be through school-based case management in the K-12 setting, or customized individual support in the community, the Adolescent Family Program and Upstate Fatherhood Coalition are working to meet the needs of young mothers and fathers. Grounded in a desire to equip participants with the resources and skills needed to support the healthy development of the young children now in their care, these programs offer a myriad of services for participants 24 years of age and under. To learn more about what these organizations have to offer, or tips on how to engage in conversations with youth during Let's Talk Month click on the links below.
Connect Spartanburg
Mary Black Foundation has an
adolescent health initiative
called Connect. The goal of the Connect website is to connect teens and parents of teens to local providers and national resources offering services, supports, and opportunities that promote positive youth outcomes in all areas of adolescent health. For additional supports during Let's Talk Month, be sure to visit
ConnectSpartanburg.org/parents
.