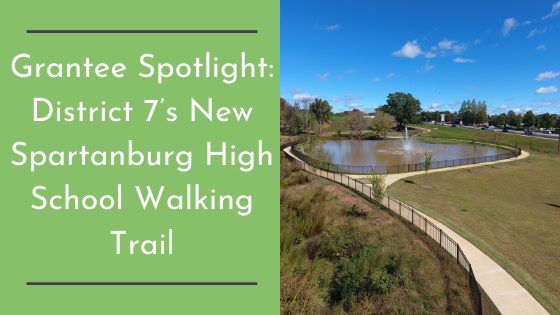 Grantee Spotlight: District 7's New Spartanburg High School Walking Trail
This week's blog is written by Beth Lancaster, Chief Communications Officer for Spartanburg School District 7
Mary Black Foundation Funds Walking Trail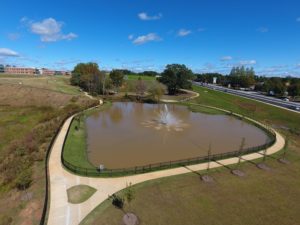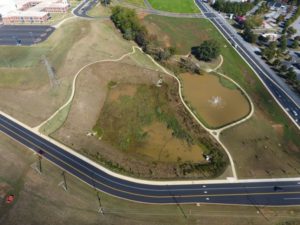 Spartanburg School District 7 was awarded a grant of $124,625 during the 2019 grant cycle to fund a walking trail at the new Spartanburg High School (SHS). The grant supports the Mary Black Foundation's focus on
active living
. The new SHS opened its doors for the first time in August 2019, ushering in a new era for the residents of Spartanburg. Situated on 189 acres at the former Lan-Yair golf course, the site provides exciting opportunities to promote the importance of active living in a beautiful educational setting that beckons our Spartanburg neighbors to share in this wonderful addition to the community. A dedication ceremony and community open house will be held Sunday, January 12, 2020 (dedication at 2:30 pm, open house from 3:30 – 5:00 pm). We hope the Spartanburg community will join us for this celebration and the opportunity to explore the campus!
A Campus Designed for Wellness and Sustainability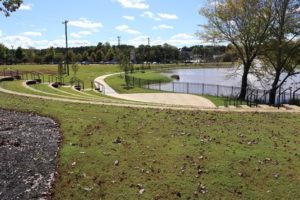 Learning takes place anytime and everywhere on Spartanburg High School's welcoming and responsible campus. Designed with a mindfulness for wellness and sustainability, the campus incorporates walking trails, ponds, functional courtyards, plazas and an outdoor environmental classroom that was conceptualized with input and guidance from SHS students and faculty, renowned naturalist Rudy Mancke, and community partners. These natural resources across the campus provide for learning, wellness, and conservation-minded benefits such as the irrigation of our grounds. In November, SHS became the ninth high school nationwide ­– and the only in South Carolina – to be awarded Two Green Globes certification from the Green Building Initiative for resource efficiency and reduction of environmental impact
Trails, Roadways, and Greenways for Active Living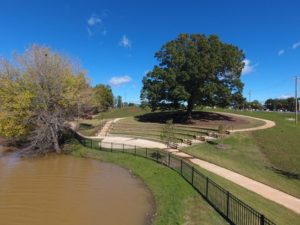 At the front edge of campus, just off of Main Street, the landscaped, half-mile walking trail and pedestrian bridge encircle the outdoor classroom, a sustainable wetlands pond, a fountain, and a beautiful old white oak that was preserved during construction and is being cared for by the Noble Tree Foundation. Coupled with the roads and grounds throughout campus, this trail provides our SHS community and the public with numerous routes and distance options for walking and running to meet a variety of needs, with a diverse range of views to enjoy while traversing the natural and developed areas of campus. Plans for the future including connecting the SHS campus with Spartanburg's trail system to join "
The Dan
," a 32-mile system which will connect multiple neighborhoods throughout our community.
Lace up your shoes and come enjoy!
The walking trail is open to the public from sunrise to sunset. Educational signage and guidelines for use will be posted in the coming months. Please join us to explore this beautiful campus and to nurture your mind, body and spirit through active living!