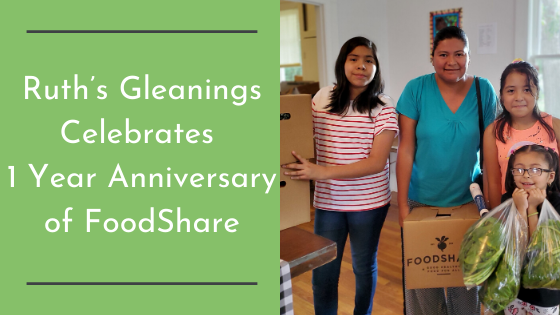 Ruth's Gleanings Celebrates One Year Anniversary of FoodShare
This week's blog is written by Tonja Ruth Smith, Founder/Executive Director, Ruth's Gleanings
Increasing Access to Fresh, Healthy Food
Ruth's Gleanings
empowers people in nutritional poverty by increasing access to healthy, fresh food. We do this through two avenues: our gleaning program, and FoodShare, our fresh food box program. When we
received funding
from Mary Black Foundation to launch the FoodShare program in January of 2019, we knew that the program had the potential to serve a lot of people in Spartanburg with increased access to fresh, healthy food.  What we didn't know was how quickly the community would embrace the program, causing a 12-fold increase within just a few months.
What is FoodShare?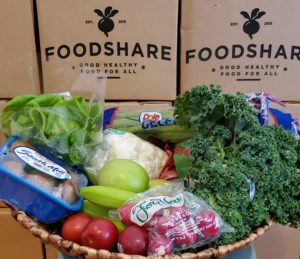 FoodShare is a healthy fresh produce box that is aggregated and distributed bi-weekly through marketing and sales of the food at wholesale cost. It is geared for low-income and SNAP/EBT participants. Our primary location is in the Northside of Spartanburg, strategically placed in an area that traditionally has had low access to fresh produce. We take orders and distribute the FoodShare boxes from this location at 147 Chapel Street. We also have five partner sites throughout the county that take FoodShare orders and distribute from their location, further increasing access to low income families in our community. In response to the closing of the Save-A-Lot Grocery store in the Southside of Spartanburg, we have partnered with The Epiphany Episcopal Church on Ernest L Collins Ave in the Southside.
Foodshare's Impact on Access to Fresh, Healthy Food
In our first year of FoodShare, we distributed
2590 boxes of fresh produce
, totaling over
46,000 pounds of fruits and vegetables
.  Over half of these went to SNAP participants.  We purchased $31,702 worth of produce for our boxes with 50% of this being purchased from our local and regional farmers.  This is truly a boost to our local food system, benefiting our small farmers as well as at-risk populations who experience great health disparities. In 2020 we are adding the Spartanburg Housing Authority, including their five public housing communities of Camp Croft, Prince Hall, Victoria Gardens, Archibald, and J.C. Bull apartments.  To keep up with the demand, Ruth's Gleanings has expanded to a new packing facility located in the rural area of Pacolet, another area of great need.
Exciting Updates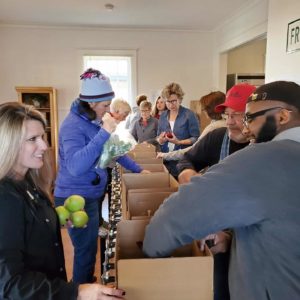 We have not done all of this alone!  Primarily we recognize that every blessing comes from God.  Starting with only one staff member, we were
able to hire two part-time employees
. In addition, we had teams of volunteers log over
2000 hours
in 2019. We have partnered with Healthy People Healthy Carolinas, Eat Smart Move More, Partners for Active Living, Spartanburg Regional Healthcare System, and many more. Grants from Women Giving for Spartanburg, Spartanburg County Foundation, Circle 555, The Duke Endowment, and donations from many individuals have funded us and our expansion into our new warehouse space in Pacolet. This space, in partnership with and given by Beth Shiloh Messianic Synagogue, will house our new food packing hub.
Grand Opening Event
We invite you to our Grand Opening at 1021 Glenn Springs Road, Pacolet, SC 29372 on
Wednesday, January 29, 2020
from 9:00 A.M. to 12:00 P.M. Drop in to help us celebrate a healthier Spartanburg!