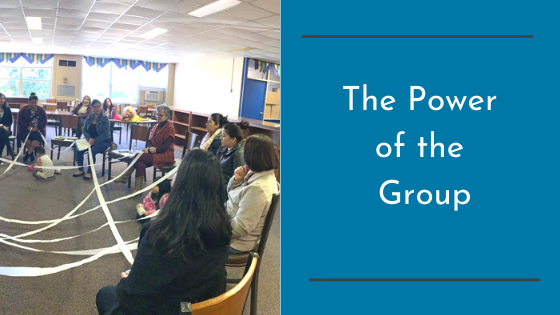 This week's blog is written by Gia Quinones, Mental Health Counselor, Spartanburg Area Mental Health Office
The Power of the Group
Belonging
As humans, we all have the innate feeling of belonging. Belonging is a strong and inevitable feeling that exists in human nature. Feeling that you belong is most important when coping with painful emotions and understanding the value of life. For most people the place they were raised becomes their "belong to place."  However, for others it's a little more intricate than that. I often get asked, "Where are you really from? Where's home?"  My response is usually, "I was born in Lima, Peru. At the age of 11, I moved to Mississippi. That's where I grew up." Home? That's a hard one, my mind immediately goes to where my parents live. Of course, my heart…Oh, my heart! It takes me to my beautiful country of Peru, where I picture all my family. Sometimes, it can be difficult feeling like you're not from here or from there either.
Ni de aquí, ni de allá.
I think it's safe to say that many in our community have experienced this same feeling, and some would admit it happens on a daily basis.
Our community has one of the fastest growing Latinx population in the state of South Carolina
. We also have refugee families, which include many from European and African countries. I'm sure at one point in their lives they've been asked this same question and experienced similar thoughts or feelings.
No Sense of Belonging
Estrangement is the feeling that you don't belong anywhere. It's especially emotionally draining when you are surrounded by many people. For some, finding a sense of belonging can be as easy as going to work, becoming a new member of a church, or joining a social group. However, for the unseen, transitioning to a new environment and working through a different language can become challenging, which significantly impacts their mind and body. Research indicates that upon arrival in the United States, immigrant women face a reality that is different from their expectations, which tends to cause emotional distress (Williams, 2011). For a married immigrant, whose husband still believes that a woman's place is in the kitchen, the clash between both cultures creates a stumbling block for growth. However, research also shows that group involvement provides empowerment for these women and increases their general sense of well-being in overcoming barriers they may face in transitioning into a new environment. (Kazemipur, 2006).
The Power of the Group
Social support systems can validate the experiences of immigrant women and provide powerful coping resources (Carr et al., 2003). In September of 2019, a support group for Spanish-speaking women was formed with the assistance of
PASOs
, and the support of
Spartanburg Area Mental Health Center
. This support group is called "
Unicas e Incomparables
." It was formed due to the high number of Latinx women that were in need of coping skills for emotionally distressing and physically challenging life situations. Therefore, at first the purpose of the group was to provide psychoeducation for the participants and assist them in learning positive coping skills, stress management skills, relaxation techniques, self-care, and the importance of taking care of their mental health. After getting to know the participants' needs, "
Unicas e Incomparables'
" goal became to provide the participants a safe place to express their thoughts and feelings, to guide them in their journey of self-exploration, and assist them in learning emotional regulation skills which they could use during times of distress. We want women to feel empowered, hopeful, supported and have a voice, so their mind, body, and spirit can achieve harmony and balance.  We want them to make connections with other women and to feel as though they belong. For more information, contact Gia Quinones at
gianella.quinones@scdmh.org
.
References
Kazemipur, A. (2006). The market value of friendship: Social networks of immigrants.
Canadian Ethnic Studies
,
38
(2), 47-71. Msengi, C., Arthur-Okor, H., Killion, L., & Schoer, J. (2015). Educating immigrant women through social support.
Sage Open, October-December 2015: 1–8.
Suárez-Orozco, C., & Carhill, A. (2008). Afterword: New directions in research with immigrant families and their children.
New Directions for Child and Adolescent Development
,
121
, 87-104. doi:10.1002/cd.224