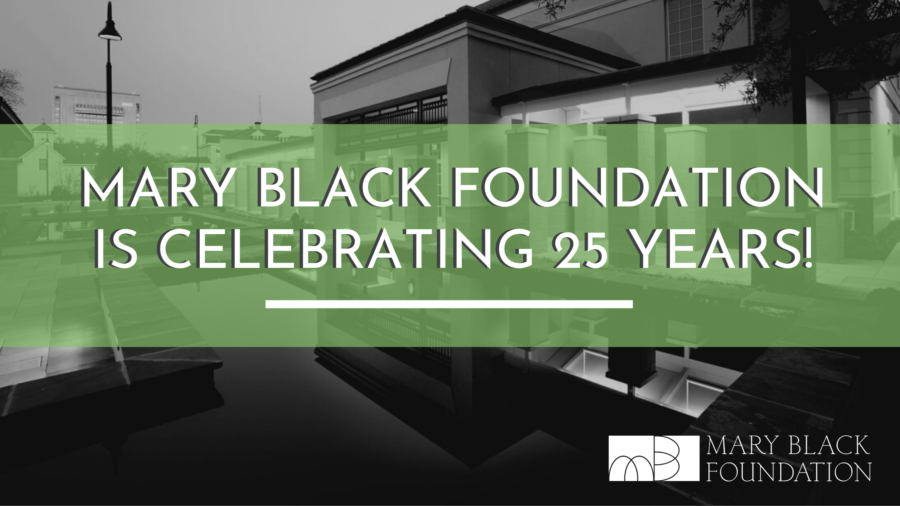 Mary Black Foundation is Celebrating 25 Years as a Private Foundation!
Celebrating the 25 Years as a Private Foundation

2021 marks the
25th anniversary of the Mary Black Foundation's role as a private foundation
in Spartanburg. However, the Mary Black Foundation has a legacy that extends beyond the last 25 years. In fact, the Foundation was originally
formed in 1986
– 35 years ago – to support the Mary Black Memorial Hospital and related community programs. Some of the earliest grants focused on s
ecuring state of the art medical equipment for screening and diagnostics, health education campaigns about immunizations and advance healthcare directives, funding to form St. Luke's Free Medical Clinic, and scholarships for nursing students
. The sale of the nonprofit hospital to a for profit company, in 1996, led to the reconfiguration of the Mary Black Foundation and its significant growth in assets. In the 25 years since the Mary Black Foundation
separated from the hospital
, it has provided over
$61 million
in grants to support health and wellness initiatives throughout Spartanburg County. During this same time, the assets have grown to over $75 million.
Upcoming Celebrations
While the COVID-19 pandemic has stopped us from gathering in person to celebrate, Mary Black Foundation is excited to spend the next year celebrating the history and successes of the last 25 years of impact. Below are some examples of how we are looking forward to celebrating over the next year:
Diving into notable projects of the Foundation and our partners- broken down by blog posts covering each of the 25 years
Sharing throwback pictures from members of our community and various projects
Hearing stories from community members on how Mary Black Foundation has impacted them,
and much more!
We encourage you to follow along and celebrate the impact of not only the Foundation, but also our partners who have worked diligently over the last 25 years to improve the health and wellness of our community.