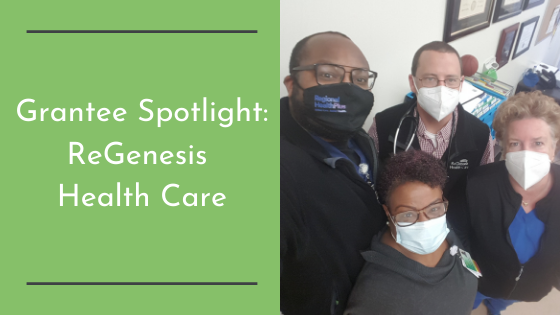 Grantee Spotlight: ReGenesis Health Care
In 2020, ReGenesis Health Care
received a grant from Mary Black Foundation
for $75,000 with the goal of improving mental health outcomes for adolescents in Spartanburg School District Six.
The Project
ReGenesis Health Care (RHC)
is proud to announce a new initiative in partnering with Spartanburg County School District Six and The Mary Black Foundation. In October 2020, RHC hired a Crisis Coordinator, Martrell Kelly John, LISW-CP, to provide immediate intervention and reduce gaps in care for children and adolescents in mental health crisis. The Crisis Coordinator works closely with District Six to respond to students in crisis who are identified as having a moderate to high risk for harm to self or others.
Improving Mental Health Outcomes
The primary goal is to minimize the student's exposure to trauma by diverting from the Emergency Centers to RHC when possible, based on the student's level of risk. The identified process for referral to the RHC Crisis Coordinator is based on the outcome of the risk assessment conducted by the school district. Once the Crisis Coordinator has been notified, the student and their family are referred to RHC for a medical evaluation and behavioral health assessment using the integrated care model. The clinical team can establish an individual plan of care that ensures safety, access to higher level of care and coordination of continuity of services. This entails working closely with the primary care provider, making referrals to treatment, following up with partnering agencies, requesting medical records from inpatient facilities, communicating care plans to the school district, and working with families. It is important to note that the Crisis Coordinator will also provide clinical services to students until they can get plugged into the preferred service with community partners. This is designed to reduce gaps in care due to access barriers that prevent immediate service from occurring.
The Why
By facilitating and coordinating services in this manner, ReGenesis hopes to eliminate wait times for appointment availability, reduce lapses in medication refills, reduce gaps in care and to decrease wait times for students to return to the classroom. In working together to write this blog, Martrell stated one of her personal goals is to help families realize they are not alone and she wants to provide and create as much support for them as possible.
This week's blog was written by Martrell Kelly John, LISW-CP and Patty Nodine, LPC, LAC, MAC, CACII, SAP, with ReGensis Health Care.